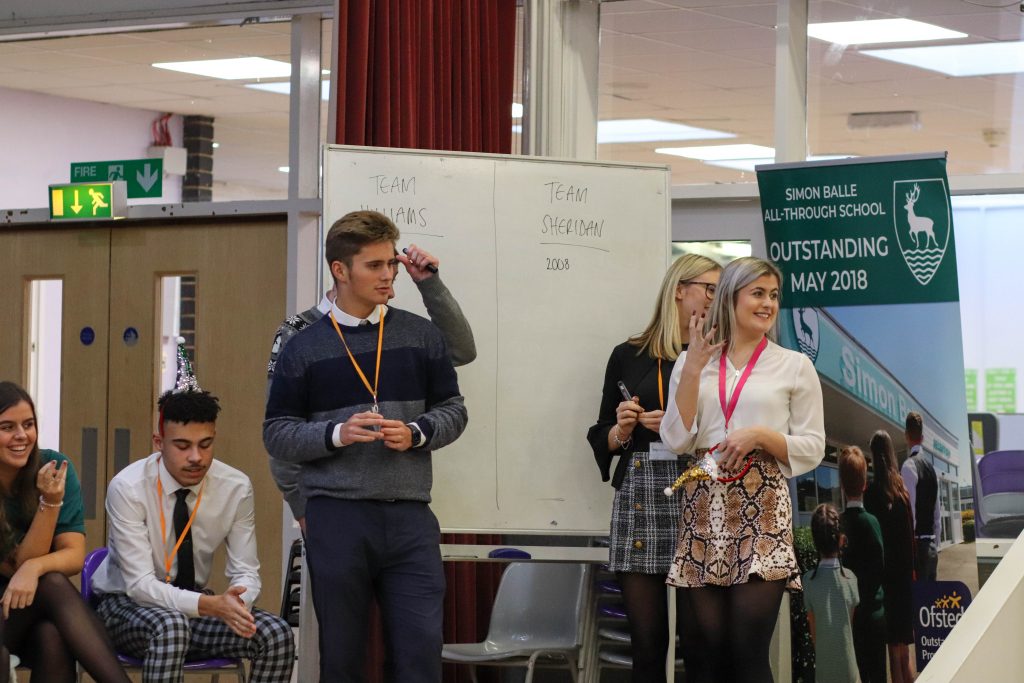 My name is Lucy, I am Head Girl and I am studying maths, geography and music, and took further maths at AS level. I have really enjoyed my time as a sixth former so far at Simon Balle, feeling more independence, being treated with greater trust and maturity by staff and getting to know peers better due to smaller class sizes. In between learning from all the wonderful teachers in lessons, free periods can be spent in the sixth form learning centre. Here there are lots of tables for sitting alone or in groups, as well as 'The Pods' which are for silent study, and the small cafe where we buy food at lunch time. Although lots of time is dedicated to studying in the sixth form, it is not all about the work. There are many extracurricular opportunities to dedicate some free time to. Volunteering is a big thing; you can volunteer to help out in lessons lower down the school, be an ambassador for edutech, music or sport, and there is also the chance to be a mentor for younger pupils. Personally, in year 12 I was a lead music ambassador, helping to organise events and helping the youngest members of our school with music in the primary school. This allowed me to get more involved and take on more responsibilities. The music department is a big part of my school life and I have had many incredible performance experiences through this, as a lead singer with the big band, for example playing at the Royal Albert Hall and on a festival stage in Belgium. I have also enjoyed sport, playing for the senior netball team in matches and tournaments. 
My name is George, I am Head Boy, I am currently studying History, English and RS, as well as completing an EPQ in my first year. One of the best things about sixth form life at Simon Balle is the relationship between you and your teachers, and on virtue of their being smaller classes they are able to guide your learning in a much more personal and challenging way. Alongside this you get new freedom to learn about and discuss  your subjects in a detailed way that you could rarely do at GCSE. This is perhaps represented best in my EPQ, a totally independent project in which you can look into anything. I wrote mine about the rise of right wing populism, you also get this kind of freedom in course work, something that will be new to many of your subjects. This ability to be able to delve deeper into your subject and to have a more intimate relationship with students and teachers is something that I have enjoyed greatly in the sixth form. However sixth form isn't all about work, there are a variety of different extracurricular activities to participate in. Whether this be tutoring the younger year groups, exploring the worlds big ideas at Model United Nations club, or participating in school sports teams, the sixth form has offered me a wide range of opportunities and things to do whilst I am in school.
Information about our dress code can be found on the Uniform page of our website.