Below are a selection of the trips that we have taken students on over recent years. This is designed to give parents a flavour of what is available. All opportunities will be communicated in advance to those students invited - and experiences will be shared through photographs on our social media platforms.
Every year we offer the opportunity for Year 9 students to go to Belgium and visit the First World War battlefields on a two-day residential trip. The students are taken by coach to historic sites such as cemeteries, museums and memorials such as the Menin Gate. They also have the opportunity to explore preserved sites such as the trenches at Sanctuary Wood, and the crater at Hill 60. This trip is an invaluable accompaniment to the study of the First World War in Year 9, both in their history lessons and also through poetry in English lessons. The school has been running this trip for many years and it has always been a poignant, memorable way for students to connect with a crucial part of world history and gain a deeper understanding of the experiences for people on the Western Front in the First World War.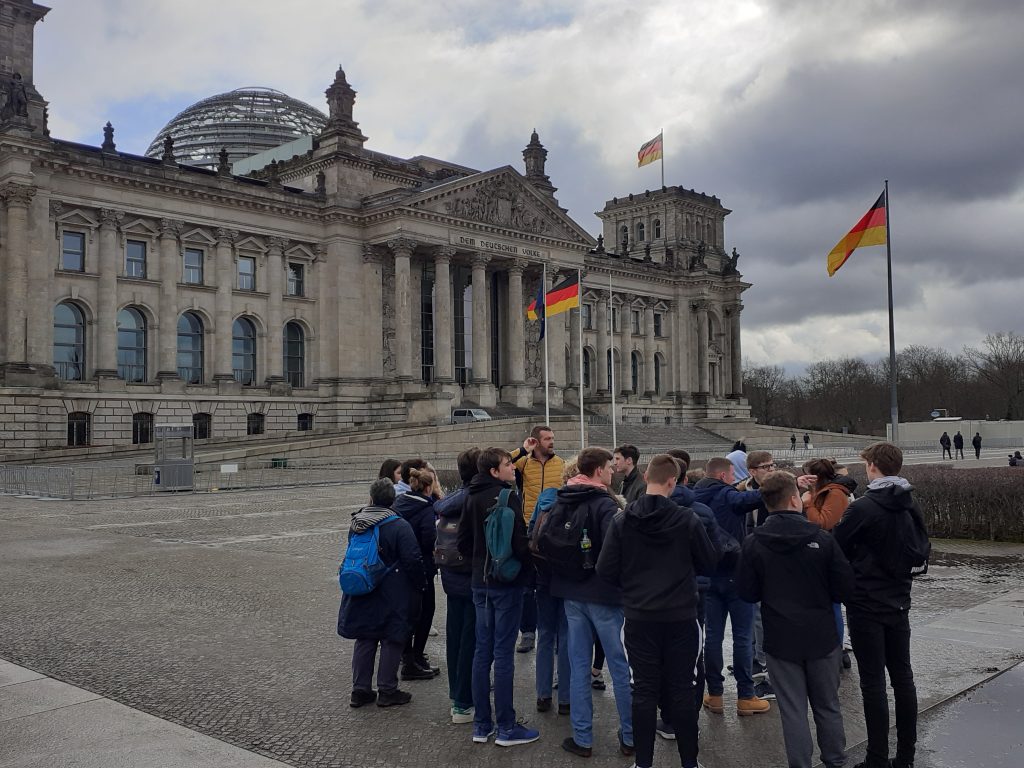 Our A Level historians were given the opportunity to visit Berlin this year. The guided tour of the city took in sights such as the Reichstag (pictured), the Brandenburg Gate, Potsdamerplatz, the Holocaust memorial, Checkpoint Charlie and the Soviet war memorial.
In Year 13 our A Level geography students visit Dorset to carry out coastal fieldwork and experience the awe and wonder of the Jurassic Coast. Fieldwork is a core element of course, and this is an excellent opportunity for the students to see in action the theoretical concepts that they studied in year 12. Lulworth Cove, Durdle Door, Chesil Beach, Lyme Regis and Studland Bay are all visited as part of the trip.  In addition to coastal geomorphology and coastal management, there is also an opportunity to examine both the need for, and the success of, regeneration and rebranding in the area. Primary fieldwork is conducted in Boscombe and Bournemouth to assess the success of the existing regeneration strategies, and students also spend time considering the impact of having World Heritage Site status.
Our Year 8 French linguists spend several days exploring France's beautiful Opal Coast. Students stay in a 'Chateau' complex which is staffed with specially trained French speaking staff who work hard to ensure that our students have a great trip and speak plenty of French. We encourage our students to fully immerse themselves in the culture and language during their trip with a wide range of day trips which are designed to help them do this. Our itinerary varies each year but visits have previously included trips to the region's oldest bakery, a chocolate making workshop, a snail farm tour (complete with snail tasting!), shopping at a traditional market, a visit to a bee museum and a tour around Europe's largest aquarium. Our Year 8 students also get the opportunity to partake in several town trails, all of which are conducted in French. Students write a diary in French each evening and really grow in confidence with speaking and writing the language.
Every two years the PE department runs a sports tour to a European destination. This trip is open to all students in years 8 and 9. The students are given the opportunity to train and play like professional athletes in different sports (Football, Hockey and Netball). A typical day consists of a morning of intense training followed by an afternoon activity. Students then play competitive matches against european teams in their chosen sport in the evenings. Students benefit greatly from the experience of playing and training in a different country, culture and environment.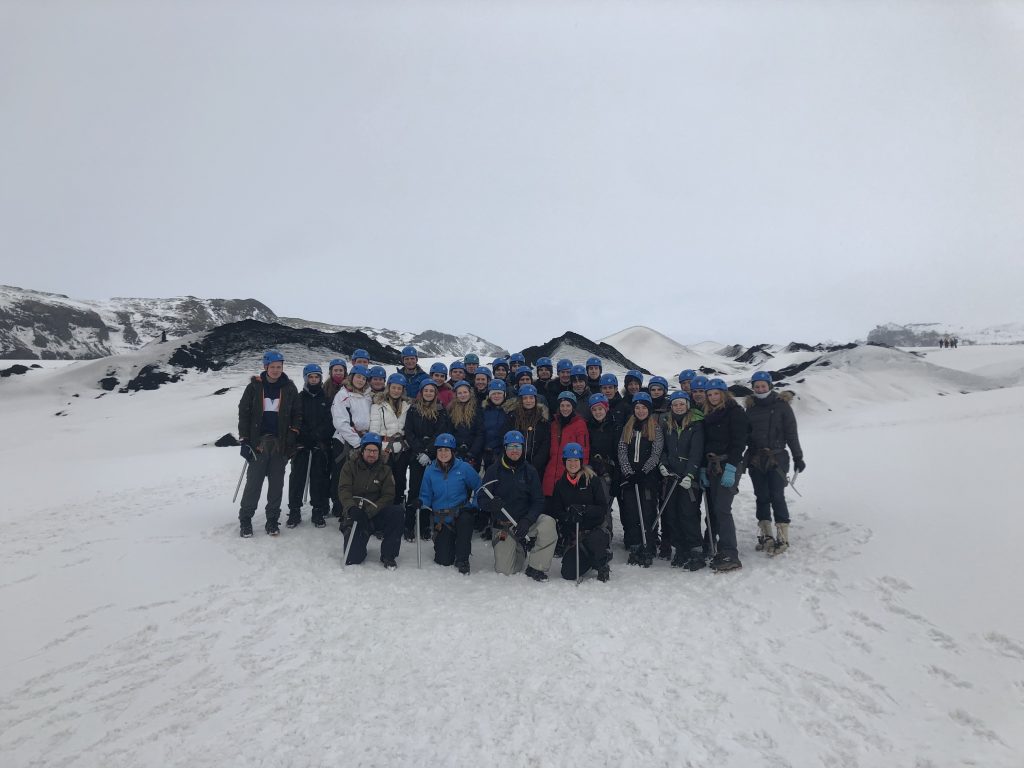 Every two years we run a tour to Iceland for A Level geographers. The trip links closely with several aspects of the course, particularly Tectonics, the Carbon Cycle and Globalisation. A local guide accompanies us as we visit a range of sites, including the Bridge Between Continents, Gullfoss Falls, a geothermal power plant, hot springs and Reykjavik City Centre. This is a truly inspiring field trip that gives the students an opportunity to experience a unique and fragile environment - and if they are very lucky the chance to see the Northern Lights.
Every year we attend the Sociology in Action enrichment conference in London. This offers students a superb opportunity to hear inspirational speakers such as Germaine Greer, Sir Tom Shakespeare and Doreen Lawrence OBE discuss today's sociological issues and opens their eyes to new ideas and perspectives. Leading experts in their fields tackle a range of challenging questions on equality, disability, crime, and sexuality, all of which form part of the A level specification. Students leave the day having a better insight into the way in which sociologists approach their work, a broader understanding of how society functions and a wider view of the world in which they live.
Our geography department has developed close links with Manchester Metropolitan University. In the autumn of Year 12 the students spend three days in Manchester as an introduction to urban fieldwork. In addition to exploring this vibrant city (we visit the Northern Quarter, the Etihad Stadium, Salford Quays and the City Centre), one day is spent working with trainee geography teachers from the university to discuss potential fieldwork ideas that our students may pursue as part of their own independent geographical investigations (coursework). This work is done in and around the university's Birley campus, itself a major example of regeneration in Hulme. This foundation work on fieldwork methodology provides the basis for their independent geographical investigations, which is itself excellent preparation for the kind of independent work typical of many degree level dissertations.
Whilst there is no coursework at GCSE, fieldwork is part of the Geography exam. Our students visit the North Norfolk Coast to carry out an investigation into coastal management. Primary fieldwork is conducted at several sites around Sheringham, and then the students use the data collected to analyse the impact of coastal management on both people and the environment. On the second day of the trip the students conduct an investigation into quality of life in Norwich.Several sites around the city are visited, with students again carrying out a range of primary data collection techniques. As part of the examination students are questioned about their own fieldwork, as well as having to comment on the effectiveness of an investigation shown to them. This work forms a valuable foundation for those wishing to continue studying geography at A Level
Year 12 and 13 students are given the opportunity to participate in a residential trip to Stratford-upon-Avon, where Shakespeare grew up and where he returned after his career as a playwright came to an end. 
Stratford-upon-Avon is the home of the Royal Shakespeare Company and we attend a production at one of the internationally-renowned RSC theatres. Moreover, students attend a range of lectures on aspects of 'Othello' and visit Shakespeare's birthplace and Anne Hathaway's cottage. These lectures, coupled with immersion in the world of the writer, deepen students' understanding of the text in performance, 'Othello' as a tragedy and a dramatic text and the Elizabethan context.
As part of the GCSE and A Level Drama courses, the evaluation of a live theatre piece is a compulsory element of the written exam, therefore Drama students will go on evening and matinee trips to see a variety of different styles of theatre pieces.
English students in Key Stage 4 and 5 regularly attend productions in both London and Cambridge to support their study of key texts. This is dependent on the availability of productions but in recent years students have seen productions of, 'Macbeth', 'Dr Jekyll and Mr Hyde', 'An Inspector Calls', 'Othello', 'The Mousetrap' and 'Brighton Rock' amongst others. These are complemented by a number of visiting theatre groups who give performances in school of texts such as 'A Christmas Carol' and 'Macbeth' to both Key Stage 3 and 4 students.
Year 5 pupils will be given the opportunity to go on their first residential trip away from home, experiencing outdoor learning and the many benefits it brings. The children will spend two nights in bell tents in Tring, experiencing a range of activities including abseiling, zipwire, climbing, archery and more. The children will get a chance to apply and build skills that will support their transition into year 6 and beyond, such as team work, resilience, determination, communication etc.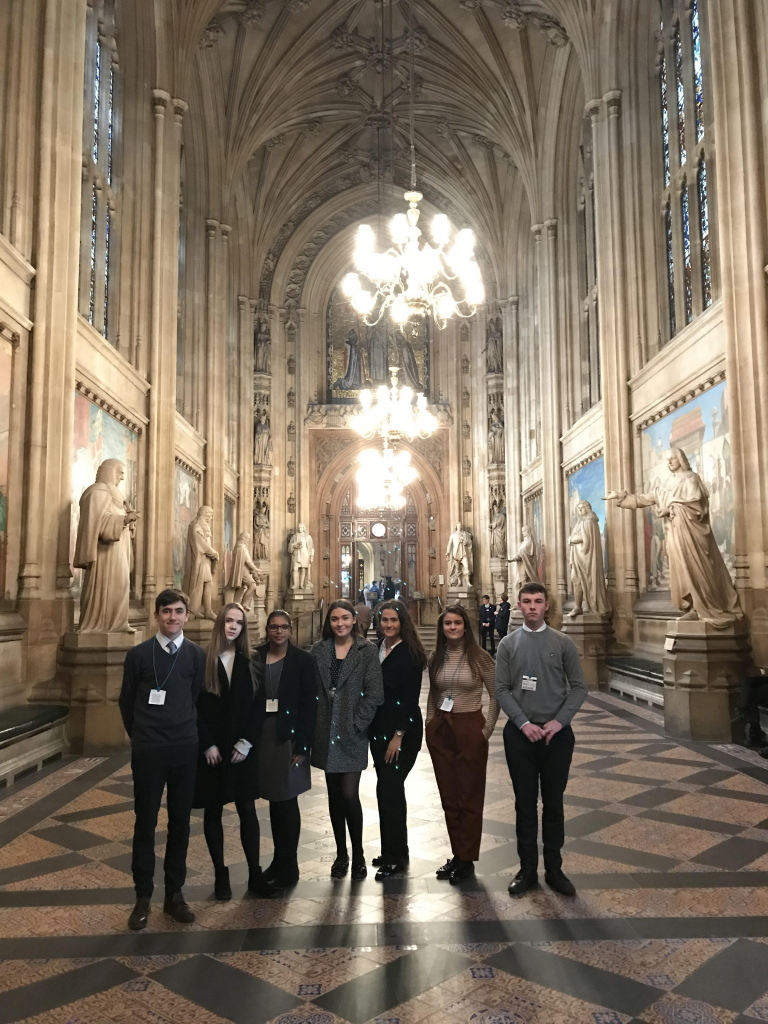 Every year the year 12 Politics students visit Parliament. Students are introduced to Parliament, its history and how it operates before we study it in class by taking part in a guided tour which includes seeing the Commons and Lords chambers and a workshop designed for A level students.  As part of the trip we will also visit an exhibition at the nearby Supreme Court to introduce students to its important role within the UK.
As part of their study of the historic environment our GCSE students visit Whitechapel in London. Students partake in a guided walking tour around the area of Spitalfields learning about the deprivation that was rife in this area during the late 19th century. The tour also considers the influence of philanthropists such as George Peabody in the creation of social housing schemes as well as the start of political activism including the match girl strike at the Bryant factory in 1888.

In Year 2 the children get the opportunity to go to Windsor Castle. This links with their History learning of castles and the opportunity to explore a castle of great historic and cultural significance. The children spend the day exploring Windsor Castle especially looking for the different features of a castle, the type of castle that Windsor Castle is, the different roles people in a castle have and looking at the British monarchy through the years.