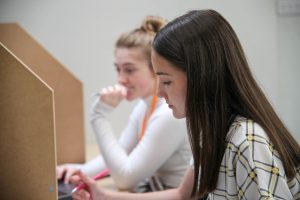 Malala Yousafzai and Greta Thunberg are household names around the world. Two young women who, in different ways, have used their right to education to highlight critically important global issues. There can be no doubt that these two individuals are leaders, they are leading thoughts and action not only for people from their own generation but for countless others across many countries, to achieve shared goals for making the world a better place.
At Simon Balle All-through School we seek to "create tomorrow's citizens today", it is imperative that we equip our students and provide opportunities to take on leadership roles and understand the importance of volunteering to improve the community. From the youngest children to our oldest students in our all-through school, we find that our students are eager to help out in our community, both within school and their local area. Some simply enjoy volunteering, being part of a team and  carrying actions and tasks. Others want and enjoy greater responsibility and ultimately accountability, initiating change and enjoying seeing the impact of their ideas coming to fruition.
The values and traits which we promote and espouse as an all through school, are vital as we seek to develop and create opportunities for leadership. Positive leadership should have the community at heart and be seen as  an act of "service" to the wider community (as opposed to self gratification). Leaders need to be resilient, courageous, caring, honest and patient. 
Our Student Parliament is an integral, influential and popular student body within the Simon Balle community. Run by our Student Presidents it brings together the opinions of tutor groups, year groups and the various specific focus groups. Focus groups epitomise our philosophy of being run by the students, for the students. We truly believe our students are central to school decisions and so our School Parliament is attended by a governor representative, our Business Director, Co-Headteachers and Deputy. Our primary phase Student Presidents represent the Primary Phase Larch Council and feed back key findings.The role is important in representing the Larch and being role models for their peers.
Our Student Parliament has been central to initiating a new PE kit, the purchase of two toilet blocks, displays on revision tips and diversity, recycling in school, promoting diversity in the curriculum, bringing back 'Speakers Corner' and scrutinising the impact of our mental health app.  
We are passionate about listening  to student voice and providing opportunities for leadership. As students choose to apply for Year 6 leadership roles, they learn valuable skills for life such as learning to write applications to explain why they are best suited to the role they are interested in. Year 6 student leadership roles include: music ambassadors, Larch librarians, Eco-Leaders, Digital leaders and sports ambassadors. Each role requires commitment and holds different responsibilities that involve leading and supporting their peers and teachers.
As well as the School Parliament structure students are given lots of opportunities to lead as they move through the secondary school. For example, leading assemblies, year group meetings, running activities and societies in the school.
We have formalised a comprehensive volunteering package for our Year 12 students (overseen by our Year 13 Presidents and Vice Presidents). This includes literacy and numeracy interventions, working in our primary phase, sport and music clubs, departments and mentoring.
Accelerated Reader

Larch: Admin in reception

Humanities In-class Interventions

Lunchtime Clubs:

Chess

Board games

Gradu8

Larch: Academic Support

Computing In-class Interventions

Geography lunch club Geogglebox

Post-Gradu8

Larch: Unstructured time

Music In-class Interventions

Library: Piano volunteers

Enrichment Wednesday

Larch: walking bus

Numeracy In-class intervention

Library support

KS3 Study Club

Larch: Mentoring

PE In-class Interventions

Duties:Sixth Form Supervision

Literacy Classroom support

Year 7 Values Leaders

P.E clubs

E-Safety Ambassadors

Oracy

Lunch club Art

Peer mentoring
We continuously seek to create various opportunities for student leadership and for our young people to develop leadership skills. Indeed many of our alumni report back on how their time at Simon Balle equipped them to become leaders and excellent employees. We know that many of them are successful in their area of work, lead teams and make a real difference to the communities in which they live and serve.