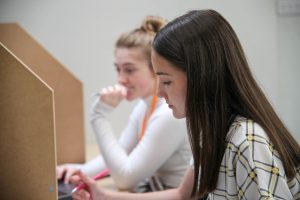 As we seek to "create tomorrow's citizens today", it is imperative that we offer opportunities and development for our young people to take on both leadership roles and also understand the importance of volunteering, in order to support and improve our community. Indeed from the youngest children to our older young people, we find that our students are eager to help out in our community both within school and within their own interest and hobby communities outside of school. Some simply enjoy volunteering, being part of a team and  carrying actions and tasks. Others want and enjoy greater responsibility and ultimately accountability, initiating change and enjoying seeing the impact of their ideas coming to fruition.
Student voice is equally important to capture both formally and informally; our students feel listened to and able to share their voice. 
The values and traits which we promote and espouse as an all through school, are vital as we seek to develop and create opportunities for leadership. Positive leadership should have the community at heart and be seen as  an act of "service" to the wider community (as opposed to self gratification). Leaders need to be resilient, courageous, caring, honest and patient. 
We continuously seek to create various opportunities for student leadership and for our young people to develop leadership skills. Indeed many of our alumni report back on how their time at Simon Balle equipped them to become leaders and excellent employees. We know that many of them are successful in their area of work, lead teams and make a real difference to the communities in which they live and serve. 
Examples of how we do this are: form representatives, music ambassadors, sports leaders, House representatives, e-safety ambassadors, student librarians, sixth from volunteers in the Larch, one to one tutoring and also student focus groups.  
Student Leaders help out with our younger students listening to them read, helping them in class and working as buddies for KS3 students. 
We are looking, post-Covid Lockdown to re-launch several initiatives and programmes including our Student Parliament and a "diversity group".  This  focus is integral to our "character development" programme, as our children and young people learn how to work with others and develop those civic virtues and values needed to be agents of change and good neighbourly citizens.