Children in Early Years at Simon Balle All-through school attain highly. The proportion of children who achieve a 'good level of development' (which means reaching expected levels in the first five areas of learning shown below) has been consistently in line or above the national average. 
The Early Years Foundation Stage Profile changed in 2021-2022. The percentage of children achieving a 'good level of development' at Simon Balle is 68.9% in 2023. In 2022, nationally this was 63.4%. 
Our Early Years curriculum at Simon Balle remains broad and ambitious, preparing children well to achieve the Early Learning Goals in each area, but, more than this, also providing them with a strong foundation in all subject areas to ensure progression into Year 1 and beyond. Our curriculum maps (please add link here to the curriculum page) are therefore plotted from Reception – Year 13 in all subject areas.
2023 Early Years Foundation Stage Profile at Simon Balle
The Early Learning Goals are now in the following areas:
CL = Communication and Language 
Listening, attention and understanding

Speaking
PSED = Personal, social and emotional development
Self-regulation

Managing self

Building relationships 
PD = Physical development 
Gross motor skills

Fine motor skills 
L = Literacy
Comprehension

Word reading

Writing
M = Mathematics 
Number

Numerical patterns 
UW = Understanding the World 
Past and present

People, culture and communities

The natural world 
EAD = Expressive arts and design 
Creating with materials

Being imaginative and expressive 
The table below shows the percentage of children achieving 'expected' levels in each area. The national and local authority comparison will be updated once it is available.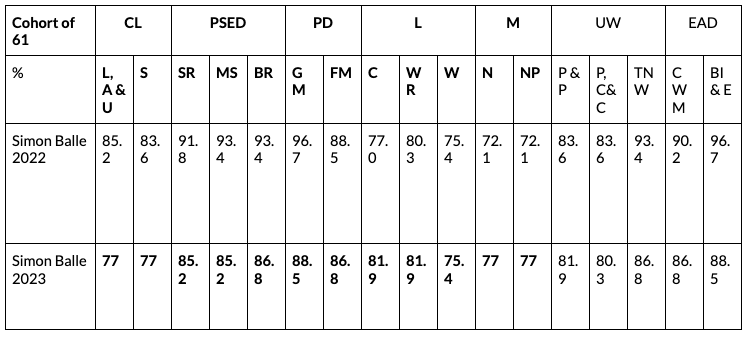 All children  are expected and supported to make strong, and often accelerated progress, through the Early Years at Simon Balle. From careful observations of children during their child-initiated learning when they begin with us, as well as strong partnerships established between home and school, high expectations and personalised support are put in place for every child. As the year progresses, achievements are celebrated on Tapestry (our online system for tracking progress) and next steps are always followed through.
This embedded and strong practice continues as well as the introduction of the new national Reception baseline from September 2021. Please see information for parents here: https://assets.publishing.service.gov.uk/government/uploads/system/uploads/attachment_data/file/1004560/2021_Information_for_parents_reception_baseline_assessment.pdf