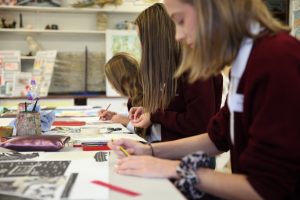 Simon Balle All through School is proud to be an inclusive school. We want the very best educational experiences, academic and social, for all of our young people. We set the very highest expectations for all of our students albeit from their entry into reception to when they leave in the sixth form. Our school vision of "creating tomorrow's citizens today" is just as relevant for those with SEND as all other students.
As a comprehensive school, we welcome students of all abilities and recognise that some of our young people will present a variety of learning, physical and social needs. What we do know, as research clearly demonstrates, is that the school's ethos and values are key for all children to thrive and in particular those who present as SEND. High quality teaching and learning are equally important, using those staff who have built expertise in and knowledge of effective strategies which address these students' needs. As a school which celebrates the individual for who they are and what they bring to the community, we endeavour to personalise our approach.
All teachers are teachers of SEND. Many of our TAs are attached to departments and their knowledge of the curriculum is important when working alongside classes. Others work mainly with identified individuals or groups of young people.  It is our ambition that all TAs will take on one of the four specialist areas of knowledge of need (communication and interaction; cognition and learning; social, emotional and mental health; physical and or sensory needs) so that they can keep up to date and share this knowledge with others.
We aim to:
Provide a relevant and ambitious curriculum
Ensure that all students will receive and retain the knowledge and skills to be active informed citizens, able to make good decisions and play a full role in society
Equip our young people and children to be  hopeful people and set themselves high aspirations
Treat everyone with respect and dignity, so that this then is shown to others, allowing us all to thrive within our community.
Our Inclusion (SEND) policy can be found on the policies page of our website.
SEND Strategic Team led by Michael Moss (Deputy Headteacher)
Helen Witty – Head of Learning Support, SENDCo
Philippa Craik – SEND Manager
Daniella Hall – Primary SEND Lead (SENDCo)
Liz Cave – Access Arrangements (SENDCo)
Mary Williams (SEND Primary Champion)
Rachel Kirk (Vice Principal)
SEND Information Report
As part of our transition process, the school liaises closely with parents/carers, the student and their primary school or pre-school to ensure that we understand both the social and academic needs of the student.  We spend considerable time discussing the best and most effective strategies we can use to ensure the students make good progress.  If you think that your child may have learning needs or additional needs, you can talk to the class teacher, Head of Year/ senior Staff or SENCO, to see how we can investigate this further so that needs are met. We will follow a graduated response (Assess, Plan, Do, Review) when assessing needs.  This is in-line with the Code of Practice for SEND and ensures that your concerns are heard, and that the child's needs are assessed to agree next steps. 
The staff at Simon Balle All through School work very closely with students and their families to ensure that we support their needs together.  Staff will ensure that needs and strategies are reviewed, that the student feels happy and safe. In the Primary phase, the class teacher and support staff will address any concerns parents may have while in the Secondary phase the Head of Year and Form Tutor will be involved. The Head of Year and Form Tutor play a key role in pastoral care and can address both social and academic concerns. All teaching staff and any support staff who are involved with the student will not only receive regular updates and training but also work together to ensure that the strategies being used are making the desired difference.  It is the responsibility of all teachers to address each student's need and we are aspirational for all learners.  Therefore, teachers will regularly assess the progress of all students and seek to identify those making less than expected progress. Staff may choose to modify or adapt methods to meet individual needs before intervention is put in place.
As a school we place great emphasis upon effective, regular training, learning from educational research and best practice. We know that the most important factor for all children, but in particular for those with SEND, is high quality teaching and learning.