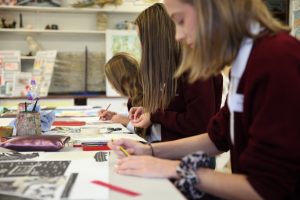 Simon Balle All through School is proud to be an inclusive school. We want the very best educational experiences, academic and social, for all our young people. We set the very highest expectations from their entry into Reception to when they leave in the sixth form. Our school vision of "creating tomorrow's citizens today" is just as relevant for those with SEND as all other students.
As a comprehensive school, we welcome students of all abilities and recognise that some of our young people will present a variety of learning, physical and social needs. What we do know, as research clearly demonstrates, is that the school's ethos and values are key for all children to thrive and in particular those who present with SEND. High quality teaching and learning are equally important, using those staff who have built expertise in and knowledge of effective strategies which address these students' needs. As a school which celebrates the individual for who they are and what they bring to the community, we endeavour to personalise our approach.
All teachers are teachers of SEND. Many of our TAs are attached to departments and their knowledge of the curriculum is important when working alongside classes. Others work mainly with identified individuals or groups of young people.  It is our ambition that all TAs will take on one of the four specialist areas of knowledge of need (communication and interaction; cognition and learning; social, emotional and mental health; physical and or sensory needs) so that they can keep up to date and share this knowledge with others. Simon Balle All through School is committed to professional development of all staff based upon the latest educational research and informed by local needs. 
We aim to:
Provide a relevant and ambitious curriculum

Ensure that all students will receive and retain the knowledge and skills to be active informed citizens, able to make good decisions and play a full role in society

Equip our young people and children to be hopeful people and set themselves high aspirations

Treat everyone with respect and dignity, so that this then is shown to others, allowing us all to thrive within our community

For those with additional learning, physical or mental needs, be able to access support, understand their own needs and exercise greater independence according to their diagnosis.
Our Inclusion (SEND) policy can be found on the policies page of our website.
Inclusion Senior Lead- Adam Quirke (Assistant Headteacher)
Amanda Wood KS3 SEND lead (SENDCo)

Stephen Robins KS4 SEND lead

Philippa Craik – SEND Manager

Alexandra Raven– Primary SEND Lead 

Carolyn Selby Access Arrangements (SENDCo)

Mary Williams (SEND Primary Champion)
SEND Specialist staff (literacy) 
How to contact the SEND team?
If you would like to speak to our SENCO about your child, please book an appointment using the link below. These appointment slots are every Wednesday morning.
After booking your slot you will be provided with a Google Meet link to join the meeting virtually via email. Meetings are 15 minutes long.