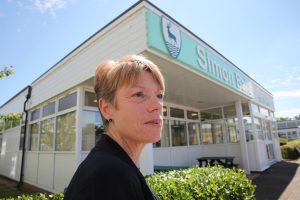 Welcome to Simon Balle All-through School. This is indeed a very special place, where everyone is important and matters.
Simon Balle is known for its high expectations, first class education and its innovative approach. Our vision and values underpin all we do. Indeed, everyone who knows us or visits our school speaks of our distinct ethos with its strong sense of identity, values and community. This can be seen throughout our school; from our youngest children in our Larch Centre right up to our eighteen year old students within our Sixth Form.
Our vision is clear – all members of the Simon Balle community are set high and challenging academic and personal targets and goals; thus they are given both the support and encouragement to succeed. We are so privileged as adults that the greatest gift we can give to our young people is a first class education to prepare them as 'tomorrow's citizens' – the leaders, parents and workers in our globally diverse and competitive world.
Simon Balle is an outstanding learning community and therefore teaching and learning is at the heart of all we do. Academic results are incredibly important. Our curriculum is relevant and fairly traditional, with a great emphasis upon the core subjects, humanities and languages, sitting alongside a promotion and love of the arts and creativity. Wider curriculum opportunities are equally important and this includes our vision for all students to explore and be curious about the world around them.
At Simon Balle we strive for each child to achieve the very best academic standards alongside promoting the well being and flourishing of all of our young people. Strong moral values underpin our school's aims and ethos, for students come first here and opportunities abound for all.
We treat every child as an individual and they talk passionately about being part of a vibrant and exciting community, feeling safe and valued. Our children enjoy coming to school and we expect the very highest attendance. The quality of relationships is a hallmark of our school.
We are passionate advocates for All Through Education. Through this we are able to serve our community and families ensuring a first class educational experience with continuity and progression. All through education offers many unique opportunities including shared experiences, powerful role models and in depth knowledge.
This is truly a special place. This is truly an outstanding school.
Alison Saunders, Headteacher