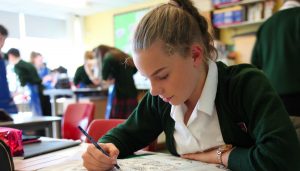 The role of the curriculum is to "equip students to pursue further study at the highest level, should they choose to, to participate as educated citizens in a democracy and to express the beauty and wonder of being able to explain the world around us". We want our students to be changed by our curriculum: they need to be able to understand time and place and their identity and role in contributing to the local, national and global communities.
At Simon Balle All-through School, our vision and values drive our curriculum. We believe wholeheartedly in creating tomorrow's citizens today. The Simon Balle student is:
A young person who, when they leave school, will have gained a first class educational experience. Our students will have learnt to be resourceful and resilient, and able to accept others for who they are. They will be happy people, creative in their thinking, respectful and responsible in their actions. Having achieved the highest possible academic outcomes alongside developing positive character virtues, they will confidently be able to go out into the world with the skills, attributes and behaviours to be active global citizens.
In order to achieve this, every young person, whilst at Simon Balle All-through School, will be educated in and be part of a community which daily promotes its values and vision. We want all of our students to be educated:
In knowledge, skills and wisdom

To have high aspirations and be hopeful

To understand how to live well within a community

To treat everyone with dignity and respect
Underpinning this are the core values of respect, kindness, honesty, as well as the virtues of resilience, perseverance and wisdom.
Therefore, we have a coherent rationale and understanding about what we teach and when and why we teach it, ensuring that there is:
An inclusive and challenging curriculum designed to inspire curiosity and build subject mastery, including the skills of literacy, numeracy and oracy.
A progressive and sequential curriculum designed to develop a depth of knowledge. The integrity of each subject is respected with key vocabulary being explicitly taught.
An interwoven, rich curriculum that is designed to support students' retention and retrieval of knowledge
All-through curriculum maps for each subject can be found in this section of the website by using the subject links on the right hand side. Alternatively you can view overviews of the curriculum for each year group in the Curriculum By Year Group section of the website. If you require further information about the curriculum in any subject area, please contact the relevant subject leader (secondary) or phase leader (primary).