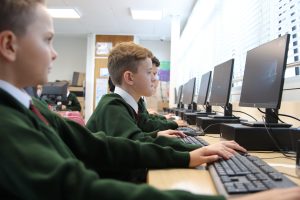 Ensuring the very best teaching and learning is our daily purpose. Over the past few years the progress that most of our children make is truly remarkable. We attribute some of this to the quality of relationships between learner and teacher, our staff development programme and also our increased use of digital resources.
Existing families know and understand this journey; five years ago having been technology pioneers in using creative and innovative tools and resources. We have embedded digital technology into the teaching and learning at Simon Balle, and to aid this all of our students have an electronic tablet or laptop for use in all aspects of school life.
Our students from years 8 to 11 are equipped with iPads but from September 2019 each new intake of year 7's will have their own Chromebook, which is built with education in mind in both hardware and software.
The Chromebooks offer seamless integration into the schools curriculum and IT infrastructure as well as providing safety by locking the devices into the schools existing security protocols
From 2020, all new students coming into the school are offered a VAT free Chromebook package which includes:
An educational spec Chromebook (currently an Asus C214)
A 1, 2 or 3 year accidental damage and theft insurance policy
An extended 3 year warranty
The option to pay upfront or spread the cost via monthly Direct Debit, interest free, over 1 to 3 years (dependent on year group)
Chromebooks also are an effective educational tool due to the following characteristics:.
    Less than 8 seconds to boot up
    Long battery life
    Simple technology
    Easy student-teacher workflow
    Large numbers of computers can be managed centrally
    Excellent collaboration tools
    Works seamlessly with Google Apps for Education and other cloud based applications which all of our students and teachers already use extensively.
    The capacity to turn from a laptop to a tablet – and for one model, the use of a stylus pen that can interact with G Suite.
If your Chromebook is damaged and in need of repair, please e-mail hello@edde.education with details of the claim. They will then advise you on what to do next.