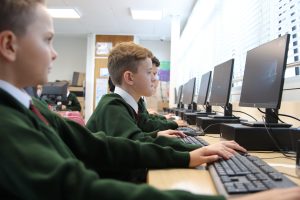 Ensuring the very best teaching and learning is our daily purpose. Over the past few years the progress that most of our children make is truly remarkable. We attribute some of this to the quality of relationships between learner and teacher, our staff development programme and also our increased use of digital resources. We have embedded digital technology into the teaching and learning at Simon Balle, and to aid this, nearly all of our students have a chromebook for use in all aspects of school life.The Chromebooks offer seamless integration into the schools curriculum and IT infrastructure as well as providing safety by locking the devices into the schools existing security protocols.
We proudly sit at the forefront of technology, adapting our everyday behaviours and transforming our pedagogical approach. Technology  advances  fast and we are always adapting, showing the flexibility that is needed when working within this field. Therefore, all 
new students coming into the school are offered a VAT free Chromebook package at a great price, which includes:
An educational spec Chromebook 

A 1, 2 or 3 year accidental damage and theft insurance policy

An extended 3 year warranty

The option to pay upfront or spread the cost via monthly Direct Debit, interest free, over 1 to 3 years (dependent on year group)
A Chromebook is the best selling device in Education. As the curriculum has evolved, so has our way of working with technology:
It is fully compatible with the Google Software we are constantly using within our G-Suite platform

Our curriculum works with the G-Suite(Google) programmes

They are ready to use within 8 seconds – no learning lost

Lightweight and robust.

No maintenance, Chromebooks download and can install security and software updates automatically 

Built-in security means devices are safe from viruses and malware.

Chromebooks have a battery life of 8-11 hours and so only need charging overnight if used constantly 

Students use technology tools on our G-Suite to communicate, collaborate, create and publish their work

Real time feedback and marking available

Subject specific apps or online textbooks easier to access

Prepares students for 21st century integration of digital tools

Works seamlessly with Google Apps for Education and other cloud based applications which all of our students and teachers already use extensively.
Students eligible for Pupil Premium could be offered a discount on the cost of the Chromebooks.