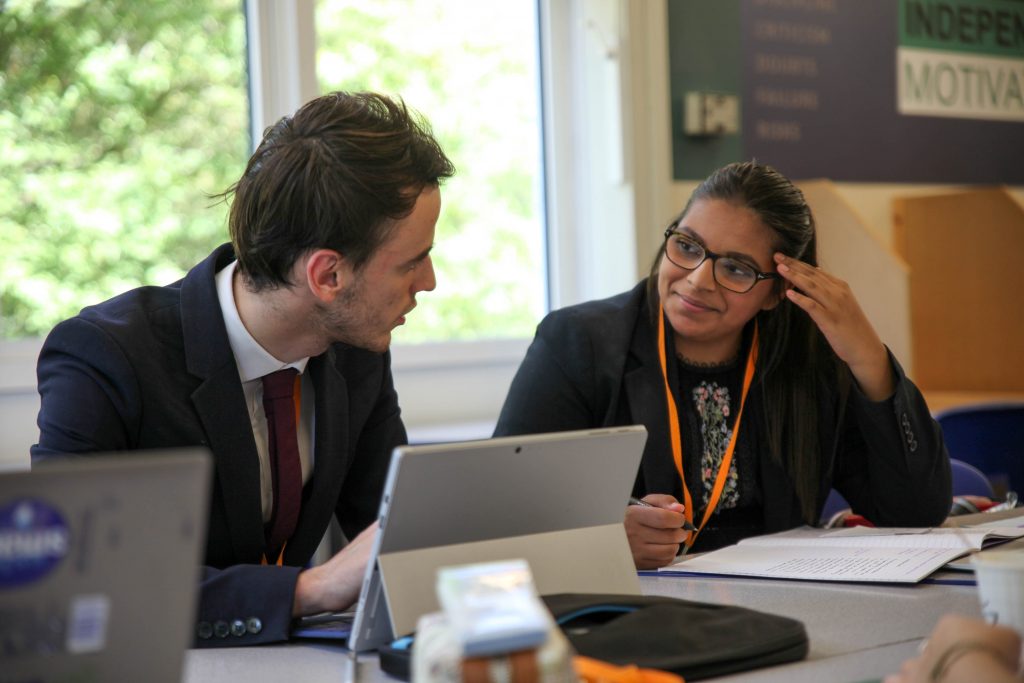 The Sixth Form at Simon Balle is a friendly and energetic community. Our students take advantage of our varied curriculum to best suit their chosen pathway. We aspire to ensure that every student secures a place at university, an apprenticeship or meaningful employment after their Sixth Form study.
A range of academic programmes are available to our students in order to cater for a variety of interests and aspirations. Students can choose from A Levels, vocational qualifications or a blend of both depending on the requirement criteria. We are proud of our success in the Sixth Form and our results continue to be some of the strongest in the county.
Sixth Form enrichment is an area of real development. Simon Balle provides valuable experiences outside of the academic curriculum to provide all students with opportunities to develop key interpersonal skills and individual character. We aim to suit all of our student's passions and more. From enterprise projects such as The Dragons Apprentice, to supporting our primary school students in lessons, and the more traditional sport or music options are all available.
We are very proud of our Sixth Form community and we would be delighted to hear from you. Simon Balle offers a supportive, enjoyable and stimulating environment for you to achieve your aspirations, in order to access your chosen pathway moving forward.
Head Of Sixth Form – Ben Morris
Mr Morris is responsible for the strategic overview of both year 12 and year 13 students to enable our young people to achieve their potential and provide outstanding opportunities for personal growth. Mr Morris is also the UCAS Coordinator and is the point of contact for the UCAS application process. Providing guidance and information, he will support Year 13 students with personal statements and the completion of the application.
Deputy Head of Sixth Form – Claire Young
The Deputy Head of Sixth will oversee the planning and delivery of PSHE lessons and experiences. Form and pastoral support, Unifrog, volunteering and Sixth Form enrichment.
Sixth Form Learning Centre Manager – Russel Ford
The Learning Centre Manager is available each day to work with students on curriculum issues during independent study in the Sixth Form Learning Centre. This includes small group sessions or one-to-one coaching. Mr Ford can also provide careers and UCAS support and guidance for students and parents. The Sixth Manager leads the admission process and oversees student transition from GCSE to A Level study.
Apprenticeships and post-18 employment coordinator – Rebecca Lunn
The Sixth Form Lead Tutor assist the deputy Head of Sixth Form in the planning and delivery of PSHE lessons and experiences, and take the lead on careers and apprenticeships.
Sixth Form Attendance Administrator – Louise Piacquadio
The Sixth Form Attendance Administrator works closely with Mr Ford to track and monitor student attendance, punctuality and sickness. Mrs Piacquadio is contactable each morning and confirms student attendance daily. Please expect a phone-call if your son/ daughter has not arrived in school and we have not heard from you by 8:45am.