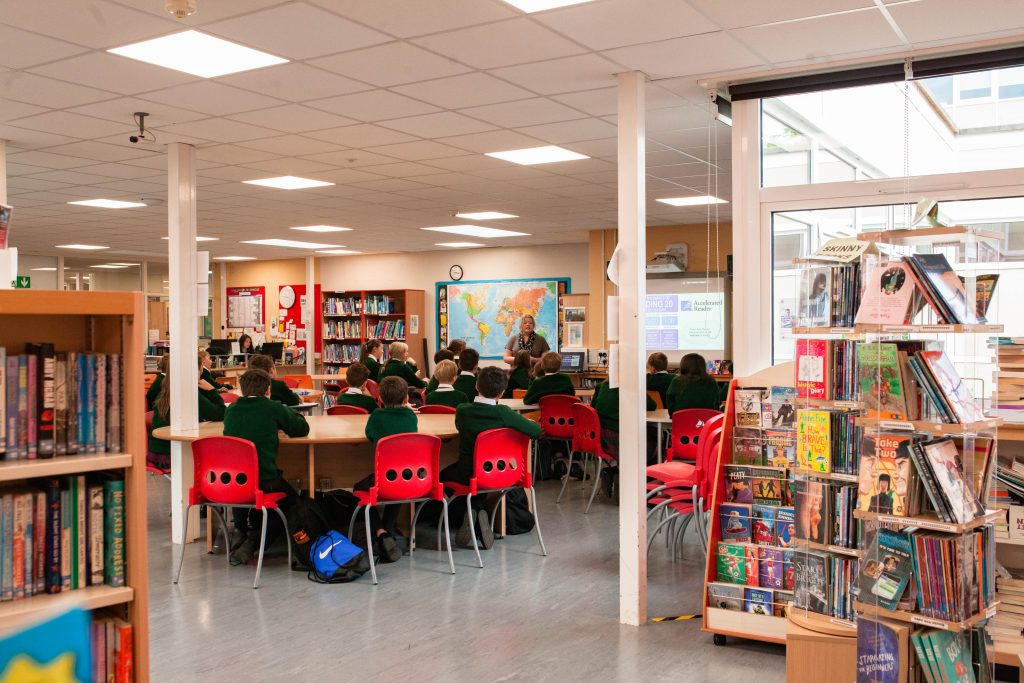 Here at Simon Balle All-through, we are very fortunate to have two well-stocked libraries: the main library near the main school reception and the Larch library situated in the atrium of the Larch primary building. We regard the libraries as the cultural hub of the school, lying at the heart of our community. Our aim is to support teaching and learning throughout all year groups and to encourage reading for pleasure by all students and staff. It is well researched by the National Literacy Trust that those students who enjoy reading and read voraciously will have more opportunities and be successful in life.
In Reception all students visit the Larch library each week: initially they listen to a story and learn about how the library is arranged and how they can borrow books. As the year progresses they are allowed to choose a library book and borrow it to read at home with a parent/carer. This instils in the students the importance of respecting and caring for resources.
All primary students visit their library regularly. During the summer term of Year 5, students have the opportunity to apply for a variety of ambassador roles for when they are in Year 6. One of these ambassador roles is the position of Student Librarian. This team of library helpers assists the Librarian with keeping the shelves tidy and writing reviews to inspire other students.
However, we know that a reading culture is intrinsic to a successful all through the school experience. To that end, we start Year 7 with purpose as our students engage in the Accelerated reader programme with dedicated lessons in the library to develop comprehension and motivation, which is supplemented by a minimum expectation of twenty minutes reading at home each night. To support their learning as they journey up the school, students are taught about the useful range of online resources we hold such as Britannica Online and Issues Online and all students are encouraged to join the local public library for a wider range of online databases.
The library is also central to our creation of a SBAS all-through canon; a pursuit founded on a moral purpose. We are seeking to ensure that we are creating a literary experience for all students, built on a reading culture, that will allow our students to share in 'a set of references and resonances, a public vocabulary of narratives and discourse.' Furthermore, it is intrinsically linked to our values and ethos as a school where books are carefully selected and used as tools to develop empathy, increase understanding of the wider world, through general and specific knowledge, and explore social and moral dilemmas.
Simon Balle's libraries showcase many positive features of our school community and students are inspired by the resources they find there.
Library Staff:
Rosemary Iles (Librarian)

Kevin Belsey