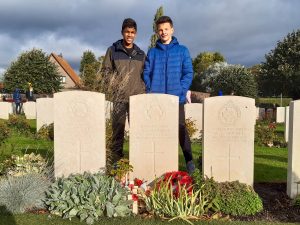 Enrichment programmes are vital to ignite that passion for learning in students again as well as to assist them to develop wider skills, flexibility and resourcefulness. We know that enrichment gives children opportunities to try new and varied activities that develop character, resilience and motivation, and encourage them to pursue wider goals.
Our SBAS framework is designed for all students to flourish and to live out our vision of preparing them to be good active citizens within their communities. We believe that education and character development are key drivers in a student's overall growth so we aim to offer an inspiring enrichment programme as an intrinsic part of the school experience.
All-through Enrichment Provision 2021_22 (SPRING)
The programme provides opportunities for students to further their interests from the classroom or to try something totally new. Enrichment activities help students develop a love for learning in their own time, expand their mind and gain skills that will help them in the future. Learning outside the classroom also gives students the opportunity to experiment which helps to build confidence as they learn new skills and immerse themselves in new experiences.
Traditionally we have offered a wide variety of enrichment activities from reception right through to Year 13. This could be an after school club, Myths and Legends for our Year 3 children to students debating at the Model United Nations (MUN) conference where our 6th form students seek to debate and solve global issues.
All our departments will offer some type of enrichment activity throughout the academic year, visiting an art gallery, the local church, seeing a play in the west end, and visiting museums. In particular, our sports and music departments offer a wide variety of enrichment opportunities for all age groups and all our clubs, societies, teams and ensembles are all inclusive.
Some enrichment activities are residential: our Year 7 students visit Bawsey Manor, historians visit the Battlefields and our languages students have the opportunity to immerse themselves in the culture of France. This is just an example of what we can offer our students but unfortunately this year our trips and enrichment activities have been severely curtailed. However, we have already booked trips for next year and the year after and when restrictions are relaxed we will be increasing our enrichment provision. You can read more about past trips on our Trips and Visits page.
We encourage all our students to take part in at least one activity, to enrich their experience and enjoyment of learning as well as develop new skills, interests and friendships.