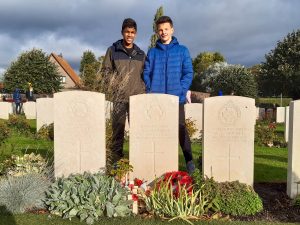 Enrichment activities are designed to give our students the opportunity to try new things and explore and develop interests outside of the classroom.
They provide opportunities for students to further their interests from the classroom or to try something totally new. Enrichment activities help students develop a love for learning in their own time, expand their mind and gain skills that will help them in the future. Learning outside the classroom also gives students the opportunity to experiment which helps to build confidence as they learn new skills and immerse themselves in new experiences.
Traditionally we have offered a wide variety of enrichment activities from reception right through to Year 13. This could be an after school club, Myths and Legends for our Year 3 children to students debating at the Model United Nations (MUN) conference where our 6th form students seek to debate and solve global issues.
All our departments will offer some type of enrichment activity throughout the academic year, visiting an art gallery, the local church, seeing a play in the west end, and visiting museums. In particular, our sports and music departments offer a wide variety of enrichment opportunities for all age groups and all our clubs, societies, teams and ensembles are all inclusive.
Some enrichment activities are residential: our Year 7 students visit Bawsey Manor, historians visit the Battlefields and our languages students have the opportunity to immerse themselves in the culture of France. This is just an example of what we can offer our students but unfortunately this year our trips and enrichment activities have been severely curtailed. However, we have already booked trips for next year and the year after and when restrictions are relaxed we will be increasing our enrichment provision. You can read more about past trips on our Trips and Visits page.
We encourage all our students to take part in at least one activity, to enrich their experience and enjoyment of learning as well as develop new skills, interests and friendships.

We work in close partnership with Busy Lizzies who offer, on our school site, a daily breakfast club (7.45am – 8.45am) for Early Years, key stages one and two and a daily after school club (3.15pm to either 4.45pm or 6pm) for Early years and key stage one. As well as providing enjoyable activities, and opportunities for children to play and socialise beyond the school day, we recognise the essential childcare nature of this provision. In addition, they run their own Nursery for children in the final year before they begin Reception. Please find out more on their website and facebook page: www.busylizziesatsimonballe.co.uk and www.facebook.com/busylizziesatsimonballe


We recognise that in Years 1 and 2, children are beginning to be ready to try out and select from a range of extra-curricular activities. For each half term from the second half of autumn term to the summer, we offer low-cost clubs from 3.15pm – 4.15pm several times a week. These are in areas as diverse as karate, sewing, running, drama, choir and more! The clubs on offer for 2020-2021 are detailed in the document below. All children will be given the opportunity to belong to at least one club across the academic year.

Explorers clubs are our own school-run provision to extend and to enrich the school day. Children in Years 3 – 6 may stay until 4.45pm for £6 per evening to include an exciting range of activities in which children can develop skills, enjoy hobbies, and become increasingly proficient in their choice of cultural, artistic, musical and sporting activities. All children are invited. Childcare provision, including a light tea, extended play activities and support for reading and homework, is available until 6pm each day (£10 per evening for both the main activity and extended provision, with pick-up any time from 4.45pm – 6pm).

Our holistic approach places great emphasis upon the arts and in particular musical education. We say it is 'the lifeblood' of our school and its influence affects both performers and those who listen and appreciate. Music is a 'golden thread' which weaves its way through our ethos and culture. For many of our students it is a life changer – playing music and their instrument becomes part of who they are and they take this with them wherever they go.
We have a strong ethos of sport for all, represented through our PPP model and we endeavour to give any student who wishes, the chance to represent the school. Clubs take place at lunchtimes and after school, and fixtures run all year round in a wide variety of activities. There are also Saturday morning fixtures for boys during the autumn (Rugby) and spring terms (Football).  While the school is competitive in all the sports we contend, recent success at secondary level has been seen at District and County level in Netball, Football, Basketball, Rugby and Athletics.
Further details can be found in the Sport section of our website.

Every Wednesday we
run a wide-ranging offer of enrichment for Years 6, 7 and 8, from
3.20 – 4.20, as part of our drive to create tomorrow's citizens today.