The nuts and bolts of musical progression
The Spring term is a time of preparation and routine. The routine of practice, personal organisation and rehearsals. The preparation is for performances, either in exams or in recitals and concerts. Both of these nuts and bolts are key for musical progression.⁣
⁣
Musical progression is just that - knowing what all the work is for, what is being aimed for, what the long term goals are. This is totally individual - in musical style and in musical aims. How we achieve this is by working together - families at home, the musicians and the team in school. Regular practice (at least 3 or 4 times a week) leads to progression. It is muscle memory, it continually develops those parts of the brain. Neuroplasticity.⁣
⁣
Through listening to the practice and preparation, you should be able to hear the progress being made - the 'how are they doing?'. Concerts, exams, practice, recitals and enjoyment all show how well your young musician is making progress. You can hear the progress. Of course, you can always ask us for an update and we always let you know when we are worried, but hearing how things are improving is the best way to monitor progress.⁣
⁣
If we work together, amazing musical things happen.⁣ We do and they are!
⁣
Mark Taylor, Director of Music
Exam Success
In January, we hosted Trinity Music Exams. Our students have worked so hard, and progressed so much and the results completely reflect this. A massive congratulations to those who have passed their exams! We should especially congratulate the many students who achieved grade 8 - a very challenging standard to achieve.
Please click the images to the right to see the results and celebrate each individual! We are so proud of each and every one of them.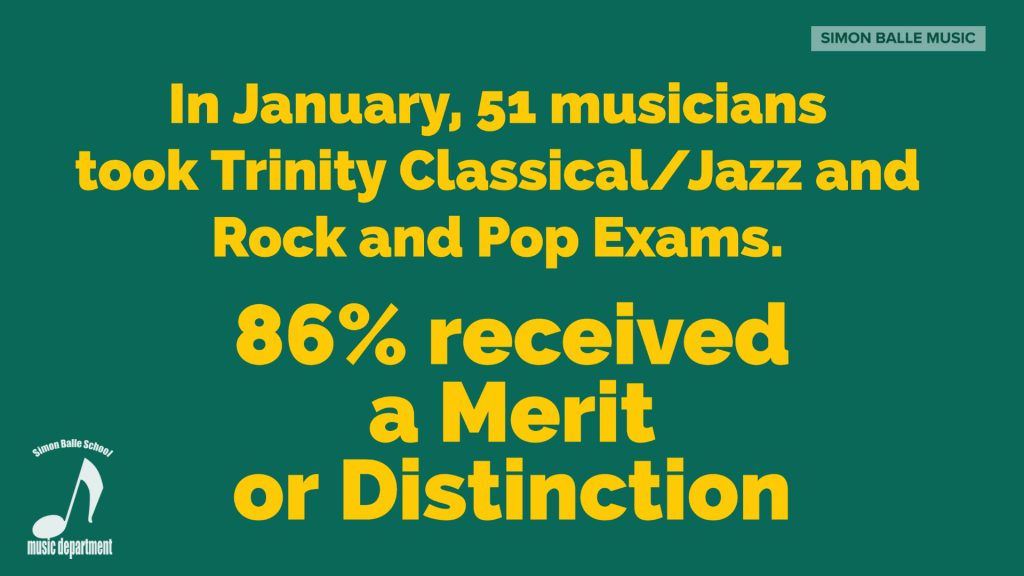 Meet the Music Ambassador!
We re getting to know our Music Ambassadors in Y6 and Y13 this year, please see our most recent posts!
Patrick and Jacob, Y13, have been a part of the ambassador team for nearly 2 years, they are both heavily involved in music ensembles and provide brilliant support for our larch musicians. They are a very valued part of the community!
Isabella, Y6, is one of our ambassadors, and a proud member of our musical community.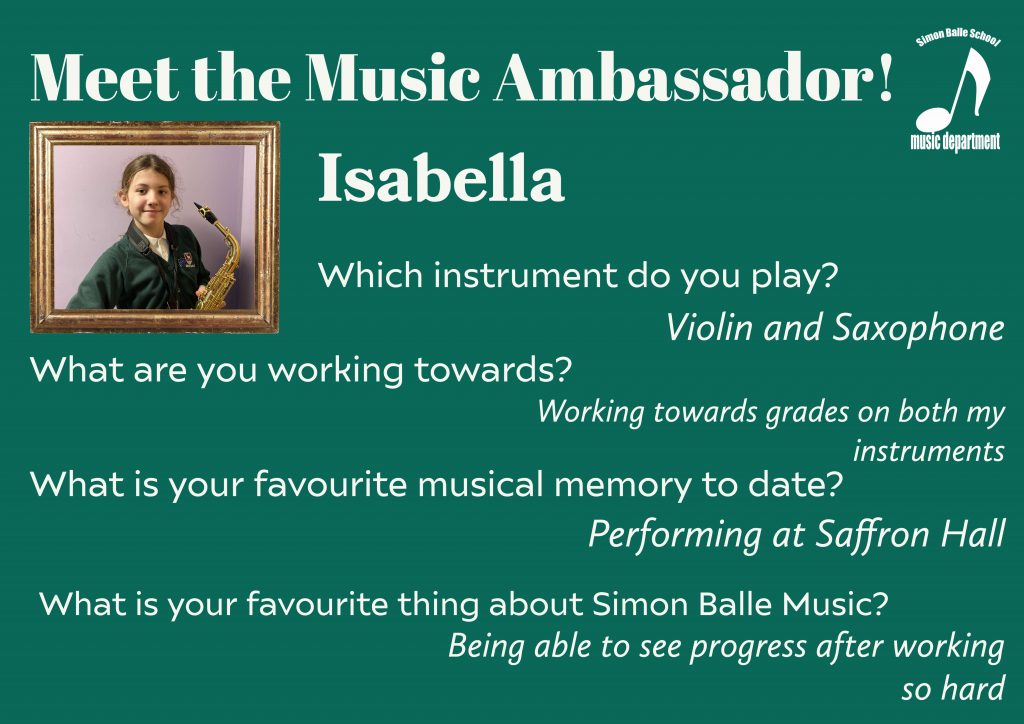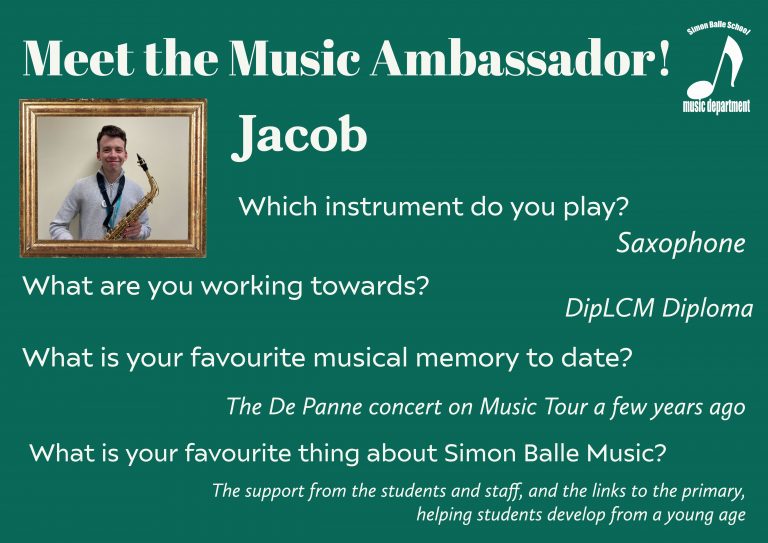 Woodwind Beginners' Celebration
It was a fabulous occasion to bring together our Year 3 beginner woodwind musicians, along with friends from Millmead Primary School. All have been learning the flute or clarinet for just over a term and this was their first ever concert!
Along with the quality of performance, I was inspired by the levels of confidence that were shown by the musicians. Performing in front of families and friends is never easy and whilst they might have been nervous, it did not show. We should remember they were Year 3, playing so fluently after such a short space of time learning.
Well done to the musicians, and Mr Caldecote and Mr Smith for their guidance and enthusiasm. Hard work really does pay off!
Brass Beginners' Celebration
In a similar way, brass players in Years 4 and 5 from the Simon Balle Larch were joined by players from Millmead to show what they have achieved in just over a term. Such a happy concert with some brilliant playing.
Having these concerts brings the boost and confidence to both the musicians and the audience. We are so proud of everyone, as well as the families for the support provided at home. Thanks also to Mr Peach for his teaching. Such amazing times at Simon Balle and Millmead schools!
A Celebration of Piano!
It was lovely to hear some of our pianists perform at the recent piano recital. They are pictured at the top of this newsletter. The piano is a difficult instrument to master and requires so much practice. Once again the confidence on display mirrored the amazing musicality. A 'packed house' appreciated and celebrated the performances. Well done to everyone!
We enjoyed brilliant performances from Zoe W, Isabel W, Edward, Amelia, Reubin, Hector, Sylvie, Ciara, Gabriel, Naomi, Zoe D, Ziva, Holly, Isabel H and Lola!
Save the Dates 2023!
Please save our What's On page - everything you could possibly need to know is below:
See some of our upcoming concerts >