Well done to all
It has been a busy time. When is it quiet?!
10 performances, 5 days of music exams, hundreds of musicians performing and in the audiences, thousands of hours of tuition and practice, millions of notes played in performance, a zillion emails sent. So many individual stories of triumph.
As I reflect, I consider these words: teamwork, quality, resilience, passion, musicality, enjoyment, pride, celebration.
Each and every performance was completed by our musicians, your young students - those you support and nag. Everyone in Team Music should be full of awe at the quality of music being performed at every level. Everyone in Simon Balle should be proud of the musicians and how they work together.
There is always more to do, more students to inspire, more amazing music to create. What I know is that when we work together as a team, work together with drive and pride, and put in the practice, amazing things happen.
Mark Taylor, Director of Music
A Celebration of Singing & Strings!
In the Strings and Singing concert, I was performing in Chamber Choir, Musical Theatre ensemble and a Musical Theatre trio. My favourite piece I performed was At The Ballet from Chorus Line as it's the best I think I have ever sung in front of an audience and I was able to incorporate my passion for acting as well. I also think that everyone performed incredibly well, it was great to see how many people are involved in the ensembles, especially the string group, and it was a brilliant event to showcase how talented everyone is. I didn't have one specific highlight but it was so great to see how confident everyone was and to experience such a range of music. Every piece sounded so incredible! It was obvious how hard everyone worked to create such an amazing concert and it was really inspiring for everyone to look up to what they could achieve in the future. 
Rosie, Year 11
I was participating in the Strings and Singing event. It was amazing! The atmosphere was joyful, and every song sounded great. My favourite part about it was taking part in the Senior Strings and playing Fawkes the Phoenix.
Summer, Year 7
Videos from the Evening- click the top right hand corner to see the whole playlist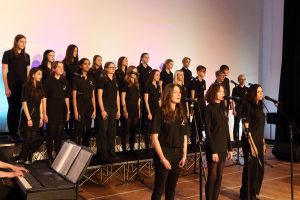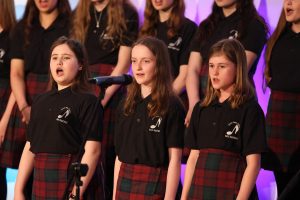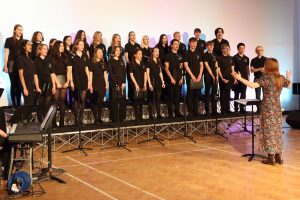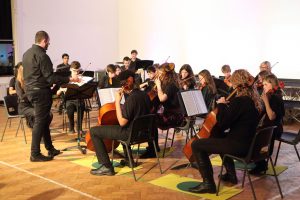 Herts & Ware Music Festival - "Esther"
Earlier this month we took the Larch Senior Choir to perform at the Herts and Ware Music Festival in the Ware Drill Hall. The children took part in a production called Esther which was composed by the local composer Paul Burrell and they performed in a chorus of over 150 children from different primary schools in the area. The production was a roaring success and the children made us hugely proud of them from start to finish with their fantastic singing and professionalism. There were also outstanding individual performances from Zach and Archie who had major roles in the production.
In my performance of Paul Burrell's Cantata 'Esther', I played the role of Mordecai with a dozen other actors around my age. We had all learnt our lines, our solo songs and our roles in the play. In my opinion, Esther was an absolutely amazing masterpiece and I am looking forward to what Mr Burrell will do next!
Archie, Year 5
The character I played is an arrogant King called Xerxes. I find that playing him was quite fun because I loved being quite royal and how much expression I had to show. I really enjoyed every single part of being Xerxes.
I think the cast were really good performers at there roles as they showed so much expression during the 2 nights. I think that they were really nice and welcoming when Archie and I came as we didn't know anyone. They were really good actors and I think they should perform again.
Zach, Year 6
Trinity Rock & Pop Exams
Earlier this month, some of our students sat their Trinity Rock & Pop Exams. What an achievement - they should be so proud.
Click the image to see the results.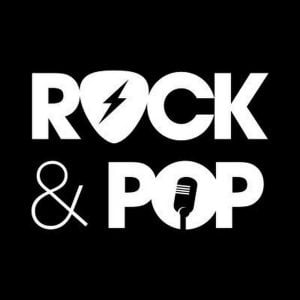 Music Medals
In the primary phase, our younger musicians have been taking their music medals!
Hattie, Annie, Xander and Summer passed their silver violin medals.

Sofia, Olivia, Rosie, Marlee, Seb, Max, William and Chloe passed their copper medals.

Rosa, Beau, Isabella, Ava, Isla and Eloise passed their bronze medals.

Evie, Marnie, Renae and Freya passed their copper medals.

Loris passed his copper medal on bassoon and his bronze medal on flute.
Congratulations to you all!
A Celebration of Larch Music
Well done to everyone for the amazing primary music celebration earlier this month. It was a triumph, with over 100 musicians involved. The quality of music performed and celebration from the audience was amazing. Music is most certainly alive in the Larch!
Videos from the Evening- click the top right hand corner to see the whole playlist
Rock Gig
Rock School is a fabulous part of our work and rehearses on a Tuesday. 55 musicians work in bands bringing together music they have selected and students learn how to work in teams - the bands, support each other and grow in confidence. It was a superb community at the gig this week where the standard of performance was an inspiration. Congratulations to everyone who performed, and thank you to everyone who came as audience. Without an audience, the gigs and concerts are nothing!!
Videos from the Evening- click the top right hand corner to see the whole playlist