Why Saffron Hall?
Bringing all our musicians together once a year is so important. It shows everyone - audience and musicians what Simon Balle Music is all about. It shows our younger students what they can aspire to. It shows all our musicians everything that we do. It provides inspiration. It is our annual celebration of Team Music and each and every musicians.
Why Saffron Hall? In a nutshell, it is the only venue 'close by' that can accomodate us. The size of the stage, the space for musicians to watch each other, space for the audience. It is cost effective, it is designed for our music. We are part of their calendar. They want to work with us. It has a capacity of 750 and we use all of that capacity. Hertfordshire, and especially East Herts, does not have any venue large enough, or in fact, any concert hall. I know, because I've looked, investigated and asked, I've lobbied about the lack of arts and concert venues in the area. I've failed. Theatres have smaller capacity. Saffron Hall has an amazing acoustic.
We have to bring everyone together once a year. I cannot emphasise enough how important this is. It is part of our ethos and is part of what makes our music amazing. We go to Saffron Hall for it is somewhere that does justice for our amazing musicians. It is our only option, but what a fantastic option it is. If you have never heard your young musician perform there, you will not be disappointed.
Simon Balle Music so needs a concert hall, a music centre that is befitting of our amazing music. We can hope and wish, and we should never stop asking! If you can help, please get in contact.
Mark Taylor, Director of Music.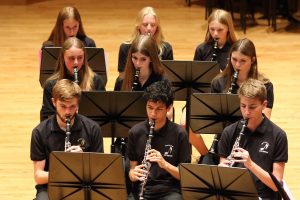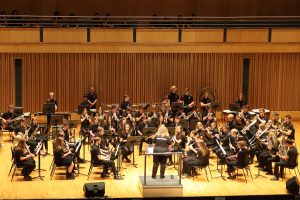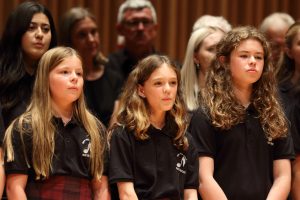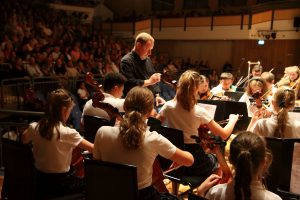 Who will be performing?

Concert Band,

Junior Wind Band

Saxidentals,

Guitar Ensemble

Chamber Choir

Secondary Choir

Take Note

Larch Senior Choir (Year 4, 5 6 students)

Larch Wind & Brass (Year 4, 5, 6 students)

Larch Strings (Year 4, 5, 6 students)

Senior Strings

Brass Ensemble

Big Band
Rehearsal Schedule 2023
Students need to arrive 15 minutes before their rehearsal. Further specific details will be distributed nearer the event.
There is no Sunday rehearsal for the Guitar Ensemble.
Sunday 9th July

7:30

Set Up

9

Big Band

10

Saxidentals

10:30

Set up choirs 

10.45

Chamber Choir & Take Note Rehearsal

11:30

Set up (concert band layout) 

11.50

Senior Strings including Year 6 strings

12.15

Brass Ensemble

12:45

Junior Wind

1:15

Concert Band 

2pm

Larch Students arrive

Larch orchestras set up

2.20

Larch Choir (Y4, 5 & 6) & Secondary Choir items

2.45

Larch Wind & Brass, Larch Strings rehearsal

3.15

When I Grow Up (all larch, all choirs, rhythm)

3.45

Set up Concert Band 

4

Done

5:00

Concert starts
Frequently Asked Questions...