Welcome to our Music!
The amount of music that is being created at Simon Balle is staggering. Concerts, exams, rehearsals and now a music tour. Each time we set a challenge, the musicians step up and work as part of this incredible team.
So please take time to read what is below and celebrate what is being achieved day after day. All musicians deserve praise, as do all the staff who create what takes place. To those who are leaving this year - thank you. It's been a blast! Take the memories and experiences with you wherever you go. In September we return to pick up the baton and make more amazing music. Until then, follow us on Twitter for updates and celebrations during the holidays. Have a good summer!!
Mark Taylor, Director of Music
Saffron Hall 2022
Last weekend it was an honour to return to Saffron Hall to celebrate our amazing musicians. For most, they had never performed at this iconic venue and returning once more was a very nervous time. Months of planning, over 230 musicians, around 500 in the audience. Our musical community at Simon Balle was once again coming back together.
Saffron Hall is about inspiring our musicians in all year groups, allowing them to appreciate their musical pathway, route of progression and allowing them to come together as a team and a community. We have spent so long apart. Here, we had the opportunity to come together in spectacular style. At this concert, we tried to allow as many musicians as possible to have their 'moment', especially those who are about to leave us, taking their musical journey to pastures new. We brought in new ideas, such as the primary orchestra (all 80 of them) performing with senior musicians. We reminded everyone how amazing the 60 piece Concert Band is, along with our Guitar ensemble, Brass, Junior Wind and others. Saffron Hall was alive with singing from our youngest to our adult community choir. Alumni, many of whom had missed out in recent years, came back to support us and show how connected to Simon Balle Music they still are. What a community.
Mark Taylor
Director of Music
Going to Saffron Hall was an amazing experience: from the very start of rehearsals in the morning to the last second of the last song about 8 o'clock at night.
It was fun performing with children from the Larch right through to sixth form in an amazing hall with fabulous acoustics. I performed in junior wind, concert band, Saxidentals and the choir, and with a rendition of 'Fix You' that all the choirs sang together. I joined concert band only recently, but it has been wonderful to play with really talented people: I've learned so much already.
Concert band played some well-known songs like a mix of James Bond theme tunes, Sweet Caroline and Make you Feel my Love, however, my favourite song of the evening was definitely the theme song from the musical 'Six' - the amazing Simon Balle Big Band really did it justice. I am so inspired by Big Band - both because of the music and the fact that everyone smiles when they hear Big Band play!
Merry W
Last weekend, I went to saffron hall, I really enjoyed the atmosphere, I thought that it would be a long day but it passed very quickly as we were all talking and playing together. I found it really exciting because I knew that loads of people would be coming to see us perform and we were playing somewhere where we hadn't before.. I enjoyed the concert as the stage was spacious and it was my first time playing in Concert Band. On top of Concert Band I was in Junior wind and Saxidentals. My favourite performance that I didn't play in was Big Band as it looked as though everyone was having fun and it inspired me to get really good at the Saxophone so that I could join. I look forward to being part of more experiences like this in the future.
Audrey P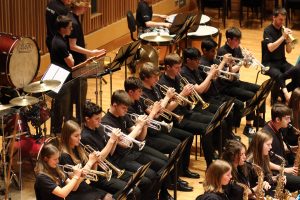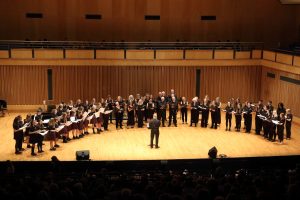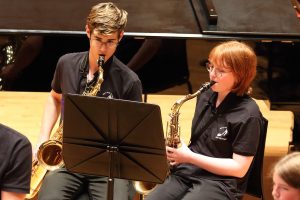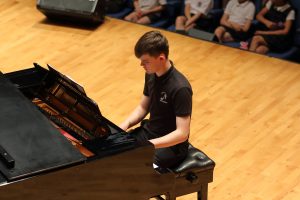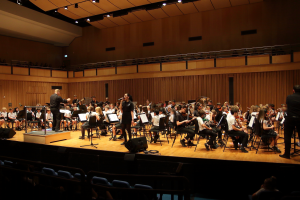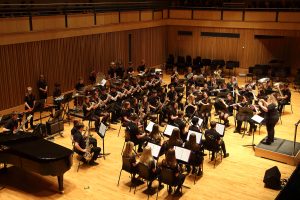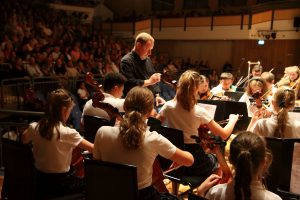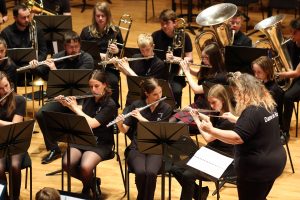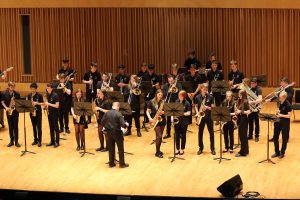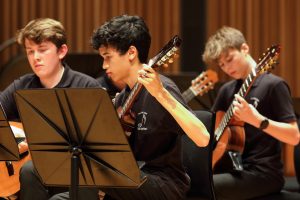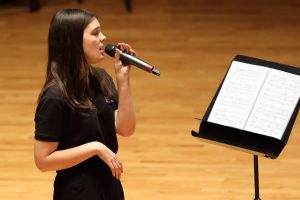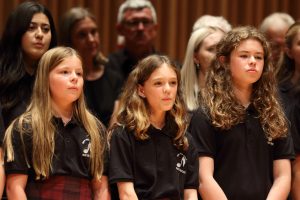 In Our Secondary Phase...
Trinity Exams
In July, students from throughout the All-Through School sat their Classical Trinity Exams. From Grade 1 all the way to Grade 8, from Year 3 all the way to Year 13.
It is such an achievement taking a Music Exam, and every student rose to the challenge. We are so proud of them, for some it is the beginning of the musical journey, and for others it is a fantastic way to complete their Simon Balle All-Through Journey. Well done to all.
Click the image below to see the results.
Music Tour to Edinburgh
Concert Band & Big Band are off to Edinburgh for Music Tour. It is a brilliant performance opportunity and we are looking forward to hearing all about it when they get back.
You can view their performance at St Giles' Cathedral below!
Follow our twitter for updates on their exciting time away: @simonballemusic
Our Primary Phase...
Y2 Strings & Y2/3 Choir Performance Evening
On Tuesday, our wonderful Year 2 and 3 students performed as part of their end of year celebration. Our Year 2/3 choir performed a variety of songs, including 'Tomorrow' from Annie.
Our Year 2 Strings Students have achieved so much in under a year, it was a fantastic opportunity for them to showcase this, they should all be very proud of what they have achieved! Have a listen below:
Woodwind Starters Celebration:
Mrs Taylor's students came together to perform what they have been working on. From Clarinets, Flutes, Bassoon to Saxophones.
Year 6 Film Composition
Year 6 have been working hard composing film music for a villain during their lessons with Mrs Iles. Please have a listen to some of their amazing work below:
Larch Stars
Our Larch Stars are musicians who have been nominated by their instrumental teachers. Their certificate is presented in assembly. Well done to..
Ethan M in Year 6 for making a real effort in lessons, and making great progress.
Wally C in Year 5 for working hard in lessons recently.
Lucas D in Year 5 for working hard in lessons recently.
Xander in Year 4 for great preparation for his music medal.
Summer in Year 4 for great preparation for her music medal.
Ava A in Year 4 for great preparation for her music medal.
Have a lovely Summer! See you in September!