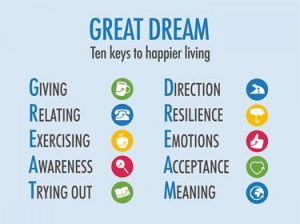 Physical and emotional wellbeing are key to leading a happy successful life. We educate all of our students on the importance of taking individual responsibility for we believe that active engagement in emotional wellbeing (prevention) is better than intervention.
Research has shown that emotional wellbeing is a clear indicator of academic achievement, success and satisfaction in later life ("Wise up to wellbeing in schools- Young Minds, 2017)
A mentally healthy school is one that adopts a whole-school approach to mental health and wellbeing. It is a school that helps children flourish, learn and succeed by providing opportunities for them, and the adults around them, to develop the strengths and coping skills that underpin resilience. At Simon Balle, we see positive emotional health and wellbeing as fundamental to our values, mission and culture. Ours is  a school where children, staff and parent/carer mental health and wellbeing is seen as 'everybody's business' and each individual is given help to be able to identify their own safety nets.
Our ethos here at Simon Balle, truly enhances our outcomes for all young people. It is well documented internationally that an environment that truly endeavours to  promote and address wellbeing is one in which:
Good relationships are modelled by all

Children feel safe to express their feelings, thoughts and emotions

Children feel very much part of the community and are accepted for who they are

They respond, talk about and engage with both controversial and confidential matters

They can agree to respectfully listen to others, even when they do not necessarily agree

Children are well rounded and self regulatory
All of our teachers have received training in the "10 keys to Happier Living" programme. This ensures that all students understand the importance of serving others, building grit and resilience and taking personal responsibility. For the vast majority of people, daily managing and developing techniques and strategies which help to foster good emotional and physical health, is more important than concentrating on intervention.
Ensuring that all children feel safe and know how to look after and respect themselves is of paramount importance. They need to understand and identify their own safety nets and support when things invariably are challenging. Our dedicated safeguarding team receive regular professional development and work closely with external agencies to support young people who are in particular need. In addition, ten staff have been trained as "mental health First Aiders". 
We are fortunate to have our own students support worker in school and the pastoral team can refer students for counselling should the need arise: this is provided on site in a safe and discreet environment.
T-CUP
We are using some of the funds raised from the Fun Run to launch a new wellbeing app. We are working alongside an organisation called T-Cup (Thinking calmly under pressure) to focus on self reflection and what components impact on personal wellbeing.
The OLLIE Foundation 
As part of our continued work around student wellbeing and mental health, we have linked up with the OLLIE Foundation (One Life Lost Is Enough).
You will see from the link below, that they provide a directory of organisations and support. The organisation offers support, advice and training for suicide prevention.