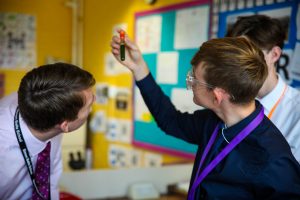 At Simon Balle All-through School, we encourage our students to have ambition and to fully embrace every opportunity provided, and this is continued and enhanced as students move into our Sixth Form. Key to this success is our offer of an individualised and inspiring learning experience, where students take risks and seek challenges. Our outstanding teachers enable bespoke and personalised learning, and provide an appropriate platform for students to flourish in their confidence and independence. This all culminates with our students going on to great successes in their chosen pathways, whether that is continuing their education at university,  or entering the workplace.
Every student in our Sixth Form is encouraged to achieve and succeed to their highest potential. We believe that successful Sixth Form students aim for more than just good academic results, they strive to work effectively as part of a team, to lead, listen and to be creative. The success of all of our students both personally and socially is of vital importance to our Sixth Form and we are very proud of our students' academic achievements.
The advantage of a Sixth Form in an All-Through School is the provision of a secure, supportive environment in which students can thrive, while allowing independence of thought and of academic curiosity. Sixth Form students are encouraged to foster their own sense of responsibility, self-reliance and self-awareness both in the School community and in the wider world.
Help is given with academic skills and the practical, organisational challenges of independent study so students can achieve great success as well as enjoying the sporting, musical, dramatic and co-curricular activities on offer.
More information about the Sixth Form can be found on the Sixth Form section of the website.
Sixth Form Team