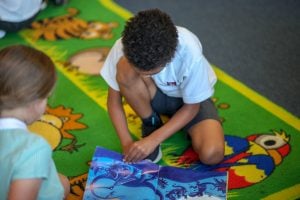 With transition being very important to us as an all-through school, here in Year 3, the first year of Key Stage Two (KS2), we continue with many of the structures established within the start of Phase 2 in Year 2 last year. Values teaching is essential to every year group in the Larch (and indeed the all-through school) and in Year 3, children are continually encouraged to use and show our schools values learnt in the previous key stage to help them set high expectations for themselves and their learning. There is a progression in levels of independence – for example, children are excited to have their own Simon Balle rucksacks and lockers for the first time!
Whole Class Reading is continued into this year group and the important focus is the understanding of the reading skills/domains of our curriculum (particularly inference at this stage), as well as the fluency of reading texts confidently. The expectations of home reading continue from KS1 to KS2, with children choosing, when they are ready, free reading books from our fantastic Larch Library. Children are also given bookmarks to support their own thinking and discussion with parents and carers about reading skills.
The same mathematics structure continues into Year 3 with children mastering their number and reasoning skills through mathematics lessons and mathematical fluency.The preparation towards the Year 4 multiplication tables check starts here, through explicit teaching, learning recall of times tables using songs, games and a variety of other methods. This builds a secure foundation from which the mathematics curriculum can further grow. 
During the foundation subjects, Year 3 study volcanoes and earthquakes in geography, learning about the layers of the Earth and Roman Empire in History with our high writing expectations of spelling and grammar continuing into these areas of the curriculum, encouraging children to apply their skills in cross-curricular situations.
Tayla Ridley, Phase leader for Phase 2 
Teachers
Emma Summerfield 

Guy Peters
Teaching Assistants
Sarah Gibbins

Carol Ludlow 
Year Group Overviews
Autumn Term
Spring Term
Summer Term