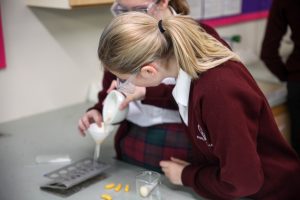 Year 11 is the final year of Key Stage 4 and the year in which students sit their GCSE examinations. Students will have already covered around half of the GCSE content and will finish their GCSE course by the end of April. Throughout the year students will challenge themselves by regularly recalling content which has been learnt throughout Key Stage 4. Students will also have the opportunity to continue extending learning beyond the classroom with extracurricular activities such as sports and music. 
Learning for Life will take a different shape in year 11. Students will spend one form time a week covering topics such as wellbeing and public speaking. Whilst the other form time will focus on learning how to learn. Students will explore how their brain works, which revision techniques are the most effective and how to plan your time. The spring term will introduce the revision clock and students will have time to put strategies into practice. 
As part of our work to create tomorrow's citizens today, the final year of Key Stage 4 has a considerable focus on 'next steps': students will have the opportunity to discuss future career paths, meet with the sixth form staff about potential pathways, and receive careers advice from connexions.
Teachers
Head of Year 11: Helen Rhodes
11A : Hayley Cannon
11B : Ben Moses
11L : Nancy Iles
11M : Kevin Belsey
11N : George Papandronicou
11R : Sarah Pope
Year Group Overviews: