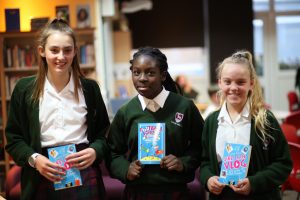 In Year 8 we continue to build on the vision that we instill in our students at the very start of their education with us, that of 'Creating tomorrows' citizens today'. Our Year 8 students: 
Explore in greater depth the ways in which we can embody our school values on a day to day basis and how they can continue to be positive and proactive members of our school community

Explore subjects  more deeply  to fuel your passions and interests and what it means to be a lifelong learner.


Explore your leadership through being a role model to others and giving to the community with opportunities for public speaking available too.

Explore ways to develop your independence so you can be a mature and self-motivated student.

Explore the importance of knowing the power of your voice and what it means to be an active citizen
Students continue to receive a rich and varied curriculum which challenges them academically. Our standards and aspirations for all of our students remain extremely high and we expect students to work hard to create firm key stage 3 knowledge foundations for their future studies.
Teachers
Head of Year 8: Ellie Newman
8A : Josh Dear
8B : Ben Major
8L : Georgina Royall
8M : Hollie Gibson
8N : Amy Tridgell
8R : Laura Cooke and Amna Salman
Year Group Overviews:
Autumn Term
Spring Term
Summer Term