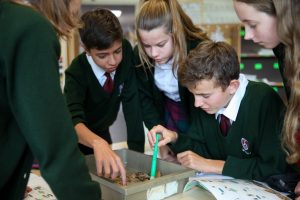 Students move into their final year of Key Stage 3 upon entering Year 9. Consideration of future plans and next steps takes place with a focus on making informed choices for exam subject study. This year provides students with a great opportunity to develop key underpinning knowledge that will stand them in good stead for their upcoming GCSE courses, as well as fine-tuning already well developed learning skills. A small number of subjects will start covering GCSE content at some point during year 9, but the majority will be delivering a traditional Key Stage 3 course.
Running alongside their option choices students will more closely focus on future aspirations and career opportunities, exploring their passions and developing the skills to flourish beyond their school years. Students will receive much guidance from Heads of Department about the rich opportunities that each course can offer. In Learning for Life lessons this career focus is coupled with valuable age appropriate teaching as the children transition towards adulthood, allowing them to reflect on their values, their personal conduct and their place in society.
Preferences process 2022
The preferences process was launched at a face to face event on Monday 31st January. The preferences booklet and presentation from the evening are below.
If you have any questions regarding the preferences process or the combination of subjects, please use the following email address to contact us: y9preferences@simonballe.herts.sch.uk
For those thinking about compatibility with A levels and other post-16 qualifications, the current entry requirements for sixth form courses can be found here.
Teachers
Head of Year 9: Helen Rhodes
9A : Hayley Cannon
9B : Charlotte Stuart
9L : Nancy Iles
9M : Kevin Belsey
9N : David Brinicombe
9R : Daisy Coulbeck / Stephanie Modi
Year Group Overviews:
Autumn Term
Spring Term
Summer Term