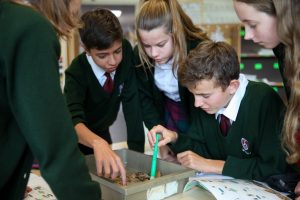 Students move into their final year of Key Stage 3 and upon entering Year 9 we ask the students to focus on two important factors: The first is to use their well established learning habits to focus on completing Key Stage 3's broad and balanced curriculum with progression achieved in all subject areas.  The other is the consideration of future plans and next steps with a focus on making informed choices for exam subject study and developing their skills in home study/independent learning, preparing them to become 'GCSE ready'.
This year provides students with a great opportunity to develop key underpinning knowledge that will stand them in good stead for their upcoming GCSE courses, as well as fine-tuning already well developed learning skills. A small number of subjects will start covering GCSE content at some point during year 9, but the majority will be delivering a traditional Key Stage 3 course.
Running alongside their option choices students will focus more closely on future aspirations and career opportunities, exploring their passions and developing the skills to flourish beyond their school years. Students will receive much guidance from Heads of Department about the rich opportunities that each course can offer.
Preferences process Sept 2023
Students will be receiving information shortly about the process for choosing GCSE subjects. We will be holding a face to face preferences evening on Tuesday 24th January and information will be added to this page after the evening.
Teachers
Head of Year 9: Brad East
9A : Laura Morgan and Hayley Castle
9B : Amber Waight and Amy Chapman
9L : Laura Devine
9M : Joe Wells
9N : Lizzie Warburton
9R : Jude Kerswill and Luzaan Sparks
Year Group Overviews:
Autumn Term
Spring Term
Summer Term