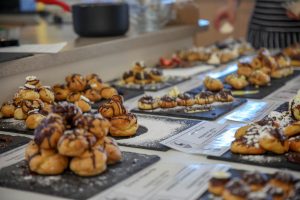 Food is fundamental to all life. It is our passion to encourage students to understand that the familiar need to eat has the potential to transform lives and shape the future. Our aim is to develop a love of food and nutrition, and to equip students with skills and knowledge to feed themselves and others. We believe that students who are able to cook and can do so, understand more deeply the implications food choices have on themselves, in families, communities and as citizens of the world.
Learning about food should promote good physical, social and emotional wellbeing. It should promote creativity, resourcefulness and a greater understanding of every subject on the school curriculum. It should provide the tools for those who work kinaesthetically to learn through 'doing' and act as a reference point for a lifelong necessity to eat. For those who are destined to work in the scientific industries, it should provide opportunities to learn key skills and apply the principles of physics, chemistry and biology in practice. For those who are destined to work in caring or service industries, it will allow opportunities to consider the needs of others and work toward meeting their needs, sensitively and in the context of real-life problem solving.
We believe all students benefit from a creative education. The study of food should contribute to providing an outlet for creative expression and nurture skills which will lead to successful innovation, aesthetic and artistic expression. We wish to develop real skills which meet the needs of employers, provide opportunities for economically rewarding and fulfilling careers and produce self sufficient, capable members of society.
For the academic year 2022-2023, we deeply regret that we are not able to offer "Food" as a discrete subject. We simply have been unable to recruit specialist staff and have taken the decision to continue only with our Y11 GCSE group. However our curriculum intent holds firm and we have received offers of help from the local community to ensure that key aspects can be delivered to KS3 students and further enrichment opportunities can be provided. As Food is delivered as part of the KS3 technology rotation, an alternative programme will be offered in place of those lessons. Students will complete three mini courses instead: sustainability, music technology and healthy living.