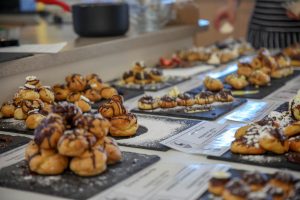 Food is fundamental to all life. It is our passion to encourage students to understand that the familiar need to eat has the potential to transform lives and shape the future. Our aim is to develop a love of food and nutrition, and to equip students with skills and knowledge to feed themselves and others. We believe that students who are able to cook and can do so, understand more deeply the implications food choices have on themselves, in families, communities and as citizens of the world.
Learning about food should promote good physical, social and emotional wellbeing. It should promote creativity, resourcefulness and a greater understanding of every subject on the school curriculum. It should provide the tools for those who work kinaesthetically to learn through 'doing' and act as a reference point for a lifelong necessity to eat. For those who are destined to work in the scientific industries, it should provide opportunities to learn key skills and apply the principles of physics, chemistry and biology in practice. For those who are destined to work in caring or service industries, it will allow opportunities to consider the needs of others and work toward meeting their needs, sensitively and in the context of real-life problem solving.
We believe all students benefit from a creative education. The study of food should contribute to providing an outlet for creative expression and nurture skills which will lead to successful innovation, aesthetic and artistic expression. We wish to develop real skills which meet the needs of employers, provide opportunities for economically rewarding and fulfilling careers and produce self sufficient, capable members of society.
Teaching Staff
Jane Johnston
Vikki Davis
Rebecca Fish
Alison Saunders