Our Instrumental and Vocal Programme provides a standard of musical success, from beginner through to advanced levels.
If we all work together, amazing things can happen.
The link to sign up for lessons is below. Please do take time to find out about our programme and how it works.
Learning an instrument or to sing is amazing!
Our ethos is all about getting involved. Making music with others. Being inspired by music.
In the secondary phase we offer all instruments with individual lessons of 20 or 30 minutes length per week. This extends to singing, guitar (acoustic and electric), bass guitar, drums and piano, as well as strings, woodwind (including saxophone) and brass.
In the primary phase we gradually offer strings, woodwind (including saxophone) and then brass. Where we have availability, piano is also offered. Group lessons gradually progress to be individual 20 minute lessons by Year 6.
As part of this, all students are expected to make music with others. There are plenty of opportunities and this is what making music is all about!
Below are details of how the program works and how we all work together.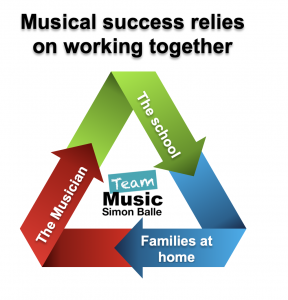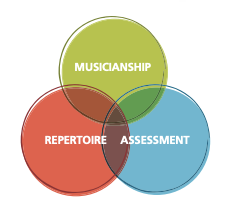 Working together
Success in this programme relies on us all working together, including your support at home with practice. We are one team.
Repertoire
Students explore a variety of styles and periods, ensuring they gain a wide range of knowledge.
Musicianship
A thoughtful and consistent approach to the development of ear training and sight reading provides students with a solid foundation for independent creative music exploration
Assessment
A national standard for exams, with independent, third party assessment provides students with goals to work towards and challenges them to perform at their highest abilities.
Successfully completing exams builds confidence and offers students the opportunity to celebrate achievements.
Enjoyment
Being a young musician requires both determination and self-discipline but it is almost unparalleled in terms of the rewards and satisfaction it can bring. Years of pleasure lie ahead for your child and we hope both you and your child enjoy this time.
Understanding the Language of Music
Music has often been described as an international language that communicates more profoundly than words. The study of theory opens the door to a deeper understanding of the language of music and provides the skills that will support a lifetime of music making.
It shows students how the basic elements of music - rhythm, melody and harmony - work together. With this knowledge, they are able to learn music more efficiently, to perform it with greater understanding, and to communicate their creative ideas more effectively.
Unlocking potential
The study of music provides a wonderful avenue to help musicians develop confidence and boost their creativity. Music students are more likely to reach their full academic potential. Cognitive benefits include better memory and attention skills, enhanced language skill and improved brain function.