Welcome to Team Music! There are many musical opportunities for Year 7 musicians!
We are proud of our music at Simon Balle. Welcome to all students and families to Team Music.
Learning an instrument or to sing, and making music with others, is amazing!
Our ethos is all about getting involved. Making music with others. Being inspired by music.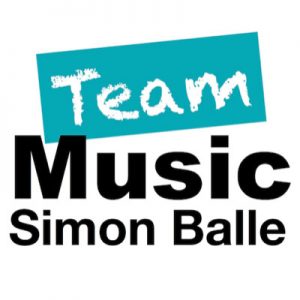 Musical opportunities for Year 7 musicians - sign up for lessons!
Our instrumental and vocal programme enables students to learn an instrument or to sing. For details of this programme, as well as the sign up link for lessons, please click in the box below:
Our Musical School
Here is the link to our music website to find out much more about music at Simon Balle All-through School, please click in the box below:
Making music with others
We also have opportunities to make music with others.
These opportunities are a key part of Team Music!
For Wind and Brass players, as well as suitable drummers:
Junior Wind Band. Mondays from 3.15 - 4pm. All Year 7 wind and brass players are expected to be part of this. They perform regularly throughout the year.
Big Band 2. This is an ensemble we are looking to develop. It will rehearse as projects during the year and will perform at the Big Band evening in March.
For String players
The String Orchestra. Tuesdays after school. All string players should be part of this ensemble which rehearses and performs a wide repertoire of music. This ensemble is developing as more musicians join.
Singers - choirs - Wednesday lunchtime
Our Secondary Choir will rehearse on a Wednesday lunchtime from 1.15 - 1.45pm. Singers will go into lunch straight away with a lunch pass and then come to the rehearsal. The choir performs regularly during the year, including at our Christmas Carol Service. The choir is open for anyone to come and sing. It must be a commitment and students having singing lessons should also attend.
Rock and Pop
During the year, rock and pop musicians (drums, electric guitar, singers etc) can join Rock School. This is on a Tuesday after school.
Acoustic Guitar
Our guitar ensemble rehearses on a Friday after school. Guitarists from Grade 1 take part. During the year we organise guitar workshops for less experienced guitarists to develop their skills making music with others.
As musicians develop their ability, they are invited to take part in more advanced ensembles. This is often on an individual basis depending on their enthusiasm!