Rock School is part of our School of Popular Music.
Rock School Weeks from September 2022
Week of Monday 19th September to week of 5th December.
Week of 16th January to week of 20th March.
Week of 24th April to week of 3rd July.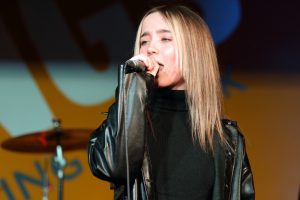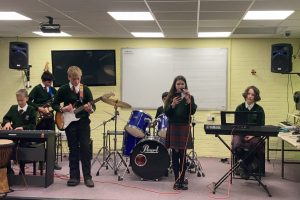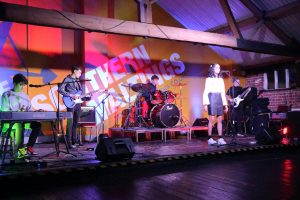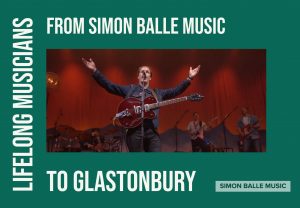 Rock School is the place where bands are formed and music is made. Confidence grows and musicianship develops. It was where George Ezra started!
Musicians who sign up to be part of Rock School are allocated a band for the half year until the gig. Bands are then reviewed to ensure they are working well! Where there is a shortage of one instrument, or too many of another, we are creative with the musicians to ensure we have as many bands as possible rehearsing (This is why we ask about a second instrument). We hope to be able to accommodate as many musicians as possible in Rock School, but every band needs a certain combination on musicians!
Bands are nurtured to be able to rehearse independently (when does any Rock Band have someone telling them what to do all the time!). When support is needed, it is given. Otherwise, Rock School is a place to learn how to rehearse, work with others, make decisions, work as a team and perform. There are performance sessions where bands hear what others have been working on. There are public gigs - we aim for two per year. Rock School is the place to be at home in a band. Teachers manage and nurture, supporting when it is required.
Joining Rock School
These are two paths into Rock School.
As a band. Musicians have found friends and others with whom they can and are happy to form a band. The band join as a whole group and commit together.
As an individual. Here, we will work with you and put you in a band, ensuring it is best fit. There might not be an opportunity immediately, but we will aim to find one quickly.
To sign up
The sign up form is at the bottom of this page. The cost is £73 per term, to ensure commitment from the musicians.
Stages in Rockschool - all on Tuesdays in the music centre
Stage 1:   3.15 - 4pm
Students who have been learning  their instrument more than a term. They learn how to work in bands, switch in and out and are taught ensemble skills. Here, bands are formed and they prepare for stage 2.
Stage 2:   4 - 5pm
Less experienced students working in bands, provided with tracks to perform, given much guidance to be successful. Staff lead where there are conflict issues in the band and ensure that nothing is left beyond each rehearsal. Students are shown how to perform. Where there are more of one instrument than for each band, students swap in and out within one band, or pick up a second instrument within the rehearsal. Much guidance in this stage.
Stage 3:   5 - 6pm
The most advanced stage. Bands are more independent, but still have the same level of high expectations with attendance, musicality and commitment to the band. They might start to write their own music!
Performance & Support
There are two gigs a year, in which students are given an opportunity to showcase what they have been working on in their time at Rockschool. These opportunities to perform help to build confidence and skills as a musician. 
High expectations about standards are expected of all who attend and support. We are a musical department that provides opportunities beyond instrumental lessons. Indeed, instrumental lessons are only part of the musical experience. Making music with others is a massive part of learning.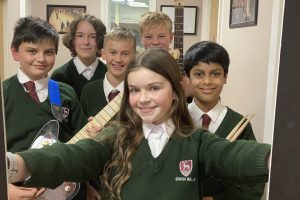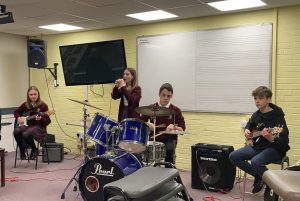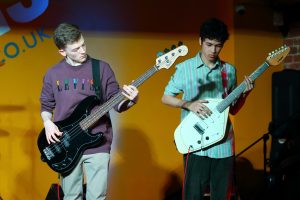 Below is the application form for new musicians to sign up.